Barty Faces Andreescu in Long-Awaited Final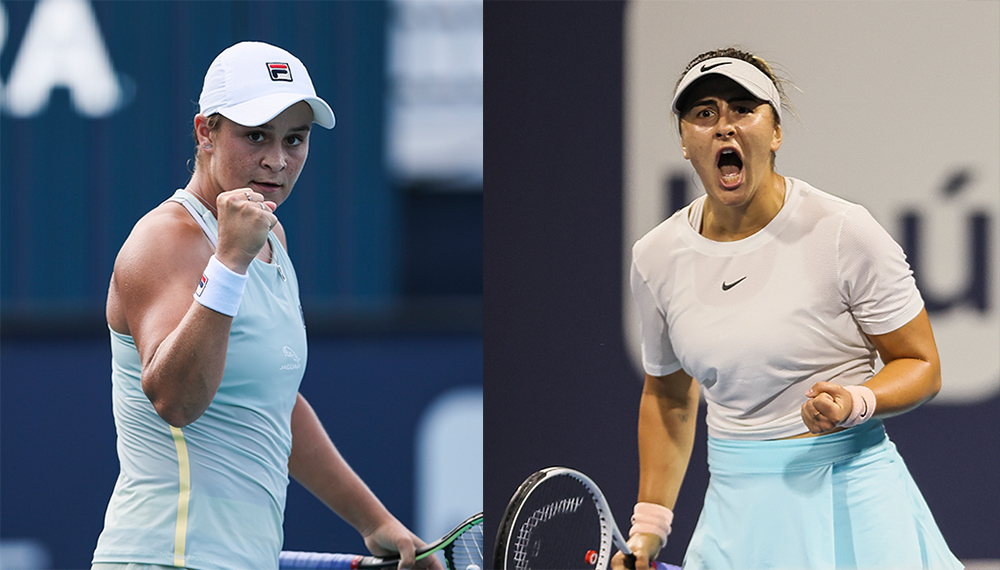 By Daniel Perissé
Ashleigh Barty and Bianca Andreescu are two of the most talented players in the WTA but never played against each other. This Saturday, April 3rd, this wait will be over as they will meet in the Women's Singles final at the 2021 Miami Open presented by Itaú.
The World No. 1 is the current Miami Open champion and has never successfully defended a title in her career. However, en route to the final this year she already beat World No. 8 Aryna Sabalenka and World No. 5 Elina Svitolina. She is also on a 11-game winning streak and has confirmed the top position of the WTA ranking at least for another month.
"I think the confidence, without a doubt, comes from the practice, the practice and the training, knowing that I have worked extremely hard with my team to refine my game. It's not going to ruin my day whether I win a tennis match or not, and of course it's disappointing, I want to try and be the best that I can be, and the competitor in me loves to win," said the Australian.
Barty, who already has won a tournament this season – the Yarra Valley Classic, in Melbourne -, affirmed that the 20-year-old Canadian "has the ability to beat the very best" in the game.
"I know from the little that I have seen that she's got a way of moving around the court that's extremely physical. She's got great hands and she's got options off both sides. I think that's what makes her game exceptionally challenging is that she has so many different assets and so many different things that she can ultimately let her competitor in her figure it out."
This will be the first Miami Open semifinal for Andreescu, who won the 2019 US Open. Since the third round, all her matches at Hard Rock Stadium were three-setters that have been real emotional roller coasters – including the semifinal against Greece's Maria Sakkari, in which she was twice a break down in the third set.
"I have a lot of experience in these tough three-setters and digging through and finding a way. Sometimes I literally feel like I'm an octopus out there running side to side, I feel like I have eight legs. It's insane. Sometimes I don't even know how I get to some shots. But it's that fighting spirit I have always had in me, never giving up," said Andreescu, who plays on US soil for the first time since her victory in Flushing Meadows.
Quitting is something that will not be seen on court tomorrow. The Women's Singles final is scheduled to start at 1 p.m. on the Grandstand court at Hard Rock Stadium.
Before the match starts, Nehemie Celestin returns for a third time to sing the National Anthem. The Miami native, a Rebellion Recording Artist, is a 4-time Showtime at the Apollo winner; and has graces the stage for the Miami Heat and Miami Dolphins.