Barty Too Strong for Azarenka, Moves Into Quarterfinals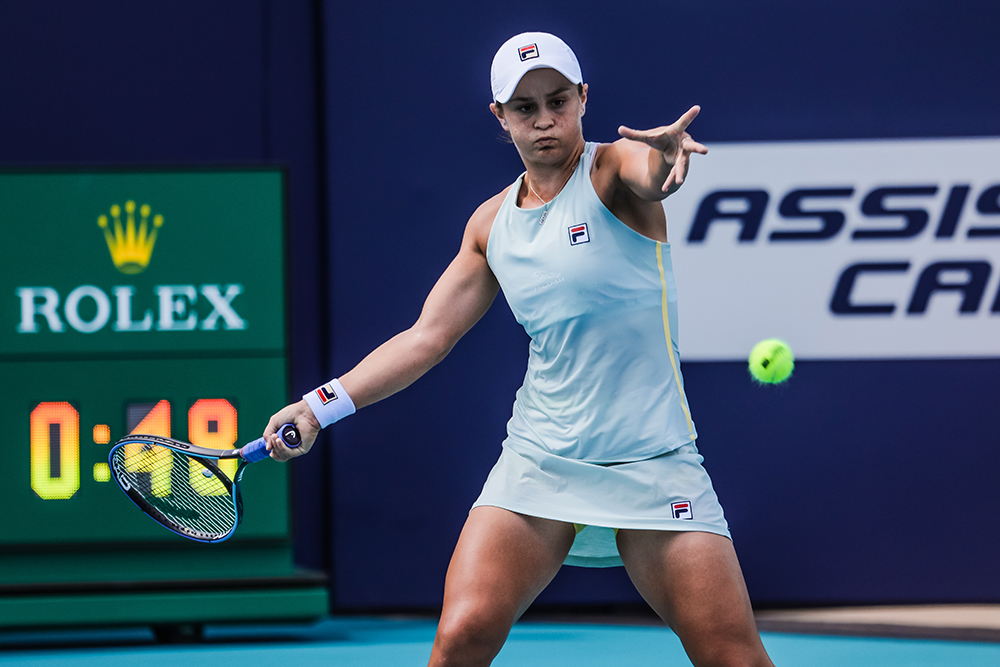 By Daniel Perissé
World No. 1 Ashleigh Barty took one more step towards her title defense at the Miami Open presented by Itaú after defeating Victoria Azarenka 6-1, 1-6, 6-2 this Monday, March 29th , and moving into the Women's Singles quarterfinals.
The Australian cruised in the first set, breaking Azarenka's serve twice and closing in 34 minutes. The Belarusian had 12 unforced errors.
However, things changed in the second set. The three-time Miami Open champion played more aggressively – she had six winners and only five unforced errors, a lot less than the previous set. Azarenka broke Barty's serve twice and forced a third set.
It was the Australian who began strong in the third set, leading 2-0. But Azarenka reacted and tied 2-2, breaking Barty's serve back. The World No. 1 was able to confirm her service in the fifth game, with the two-time Grand Slam champion losing a couple of break points.
The defending Miami Open champion kept the good momentum and opened a 5-2 lead. Then, she broke Azarenka's serve again to clinch the result in one hour and 52 minutes.
"Playing against Vika you have to be ready right from the first point, and I felt like I did that well in the first set and she gave me a few cheap errors. Then through the second she lifted her intensity. When Vika is ahead and she's a front runner, she's the very best in the world. The third set was brilliant. I think it was a great tussle and a point either way probably decides that match", said Barty.
Barty now faces another player from Belarus: Aryna Sabalenka, the seventh seed, who cruised past Czech Marketa Vondrousova, the No. 19 seed, 6-1 6-2. She expects another great match.
"I think that's a matchup that we look forward to. It's a different challenge to what Aryna can bring. And obviously she's exceptionally powerful and loves to take that first strike on and move you off the baseline as quickly as she can and get in control".
Another player that advanced into the quarterfinals was Ukrainian Elina Svitolina. The fifth seed had a comeback win against Czech Petra Kvitova 6-2, 7-5, 7-5, in two hours and 22 minutes, and faces now unseeded Anastasija Sevastova, from Latvia, who defeated Croatia's Ana Konjuh, former No. 20, 6-1, 7-5.   
"She tries to change the rhythm. For me it will be important to try to build smart and to play really smart against her", said Svitolina about her next match.