Croatians Win Men's Doubles, Clinch 4th Title in 2021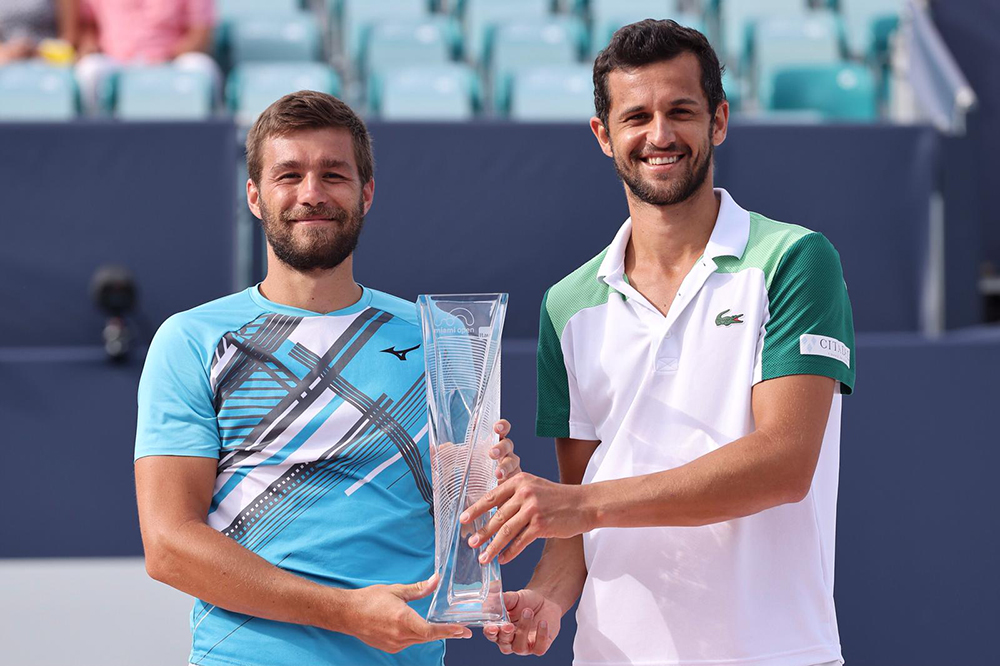 By Daniel Perissé
>> Match photos
Croatians Nikola Mektic and Mate Pavic were crowned champions of the 2021 Miami Open presented by Itaú Men's Doubles draw, beating Brits Daniel Evans and Neal Skupski 6-4, 6-4. It's their fourth title together in the 2021 season.
Mektic and Pavic came as favorites after winning the Antalya, Melbourne-2 and Rotterdam titles. They also reached the Dubai final and the Australian Open semifinals.
On Grandstand, the Croatians had heavy opposition from Evans and Skupski, who were playing their first tournament as a team and scratched off a couple of seeded teams on the way. Mektic and Pavic had a one-break advantage to take the match lead.
In the second set, the Croatian duo was able to break Evans' serve in the tenth game to clinch the result and reach an impressive 25-3 record on the season.
"They played some great games today, they are a tough team. Had a few good wins this week. We were very solid," said Pavic, who will go to No. 1 in the individual doubles rankings on Monday.
Mektic and Pavic started playing together in January, and this was their eighth tournament. They did not drop a single set this week at Hard Rock Stadium.
"I really did expect great partnership and great results from the start. We are just two players that clicked very well," affirmed Mektic.
For Evans and Skupski, reaching the final was more than unexpected: they teamed up after Neal's older brother Ken had a blood clot in his right leg and had to pull out of the tournament after a title run in Acapulco the week before. They were the first Brits, together or separately, to reach the Miami Open doubles final in tournament history (since 1985).