Food Trucks Fuel Up Fans' Appetite For Tennis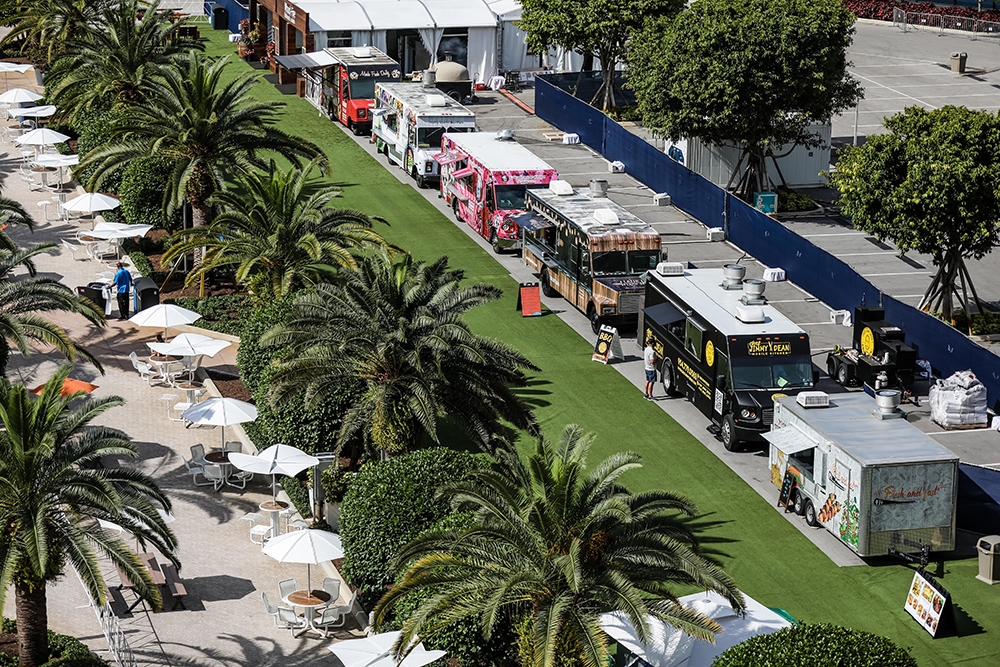 By Daniel Perissé
Fans hungry for more than great tennis have plenty of options to choose from at the Miami Open presented by Itaú. Six food trucks located on the West Lawn, near Hard Rock Stadium's South Gate, offer items such as seafood, brisket and tacos for whoever wants to grab a bite during matches.
One of these trucks is El Orgullo Latino Kitchen, with tacos, chalupas and other Mexican food favorites.
For those who need something with more substance, Chef Jimmy Dean brings his brisket and BBQ. Taking part in a sporting event for the first time, they are ready to bring tennis fans meals with enough fuel to keep up for a full order of play.
"It's really nice to be here, a great atmosphere. The crowd is always in a good mood. We hope to be back here next year", said Chef Dean, who's been selling around 100 brisket meals a day.
Seafood is the main ingredient at Fishology, which includes the Fisherman's Ceviche, the blackened fish sandwich and the salmon teriyaki bowl.
Fresh and Fast 305 is the place for pasta and salad lovers, which includes popular favorites like Fettuccine Alfredo and other specialties like the Cajun Pasta and the Avocado Pasta. And if you want to cool down from the warm South Florida weather, ColdStone Creamery is also present with a handful of ice cream flavors.
The Latin community in South Florida is also represented by the Latin Fixin's food truck. One of their specialties is the Lomo Saltado, a grilled burger patty finished off in a pan with onions, tomatoes, garlic, soy sauce and cilantro, topped with Signature Peruvian Ají sauce.
Besides the options available for the duration of the tournament, another spot will feature rotating food trucks: Jerk It Cuisine, with Caribbean dishes (Monday, March 22nd – Friday, March 26th); Wonton on Wheels (WOW), that offers a mix of Asian and Caribbean food (Saturday, March 27th – Tuesday, March 30); and Alex the Greek, featuring specialties from Greece like gyros, spanakopita and the famous Baklava dessert.
For the fans, having so many options is very appealing.  Barry University Sport Management professor Daniel Rosenberg praised the initiative at Hard Rock Stadium.
"Excellent variety, good quality and fast service. I had a salmon teriyaki bowl that was very fresh and delicious. Food trucks are perfectly suited for an event like this", he commented.
The food trucks open at the same time as daily matches start on Hard Rock Stadium, while closing hours vary according to the time that the night session ends. Come enjoy tennis and have a bite!