Friends Sinner and Hurkacz Clash for First Miami Open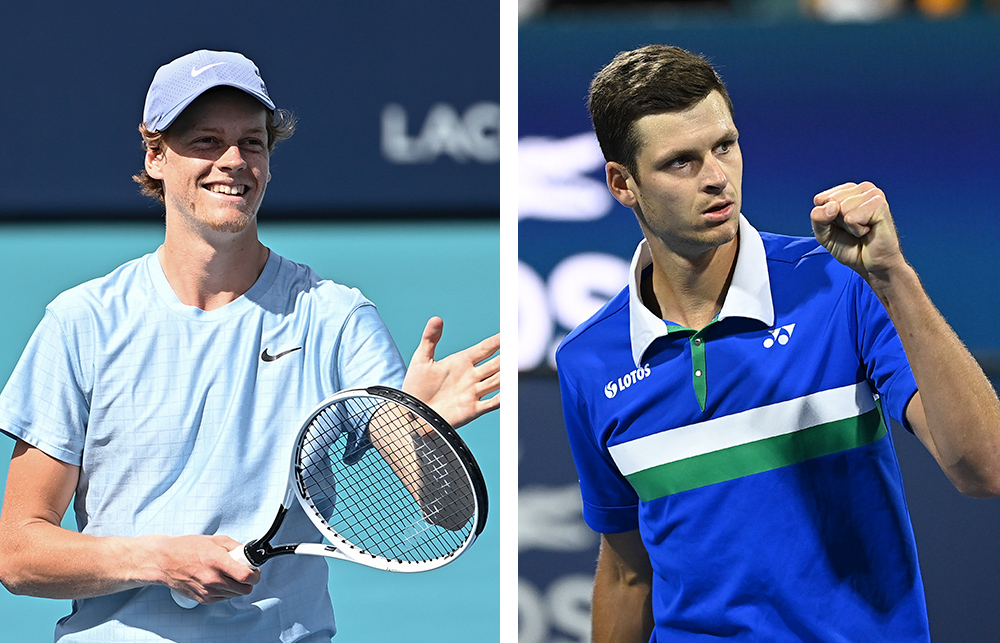 By Daniel Perissé
Last month, good friends Jannik Sinner and Hubert Hurkacz teamed up and lost in the Dubai doubles draw quarterfinals. Tomorrow, they will be on opposite sides of the court fighting for the biggest title of their young careers in the 2021 Miami Open presented by Itaú Men's Singles final.
With several confirmed withdrawals prior to the tournament, it was a chance for young players to rise and shine in the South Florida Masters. Two weeks later, the final squares off 19-year-old Sinner with  24-year-old Hurkacz, both among the top 40 and having some of their best results so far.
"Well, you know, we knew that many players are not coming here, especially the big three. You know, we approached this tournament, you know, to go very, very far," said the Italian.
And there seems to be no limits for Sinner. This season, he was crowned champion in Melbourne and reached a career-high ranking as World No. 31. In the semifinal, he beat seventh seed Roberto Bautista Agut 5-7, 6-4, 6-4.
"It obviously feels great, but as I always say, you know, I'm 19. You know, the road to have this big name is long, you know. It's not done in one week of tournament. Is a long process to come there, to become there," expressed Sinner, who is the fourth teenager to reach an ATP Masters final.
The Italian will reach a new career-high ranking no matter what his result is. If he loses the final, he will climb ten positions, to No. 21, or move to No.14 in case he wins.
Hurkacz's run in the Magic City has not been easy. En route to the final, he prevailed over World No. 5 Stefanos Tsitsipas in the quarterfinals and over World No. 8 Andrey Rublev in the semifinal.
"I think now I'm in the moment. I'm just obviously super happy to be where I am now, but now we try to prepare as best as we can. He hits the ball very hard from both sides. I have to try to stay aggressive and try to play my best tennis," said the Polish about his match against Sinner.
"We are good friends, so I wish him well. I think he's super, super calm and super chill, and he's also a good person. So, I mean, he's really a nice guy and he really wants it hard to compete to win. So, I mean, he's really, really a great guy. The results that he has are obviously because of his hard work."
The 24-year-old comes into the final defending a 9-0 match record playing in Florida this season, which includes a championship campaign at the Delray Beach Open in January. He is the second player to reach both finals in the same year.
"I mean, last year I spent over five months here (in Florida). I got used to the weather and the conditions, so I think that's kind of an advantage for me. But each site is different. The balls are different, but I enjoy being here and playing here," said Hurkacz, who is expected to move from No. 37 to No. 25 in the rankings just by reaching the final. If he wins, he will be the World No. 16.
The decisive clash for the 2021 Miami Open Men's Singles title is scheduled for 1 p.m. on Grandstand.
Charles Eastman will handle double-duty this afternoon prior to the Men's Final. The Atlanta native will perform "Waving Through a Window" from Dear Evan Hansen, followed by the National Anthem.
The 17-year old TikTok sensation plays varsity tennis and is actively involved in the musical theater program at his school. In his spare time, Charles enjoys singing, playing keyboard and guitar; and hanging out with his friends.