Japanese Duo Wins Women's Doubles Title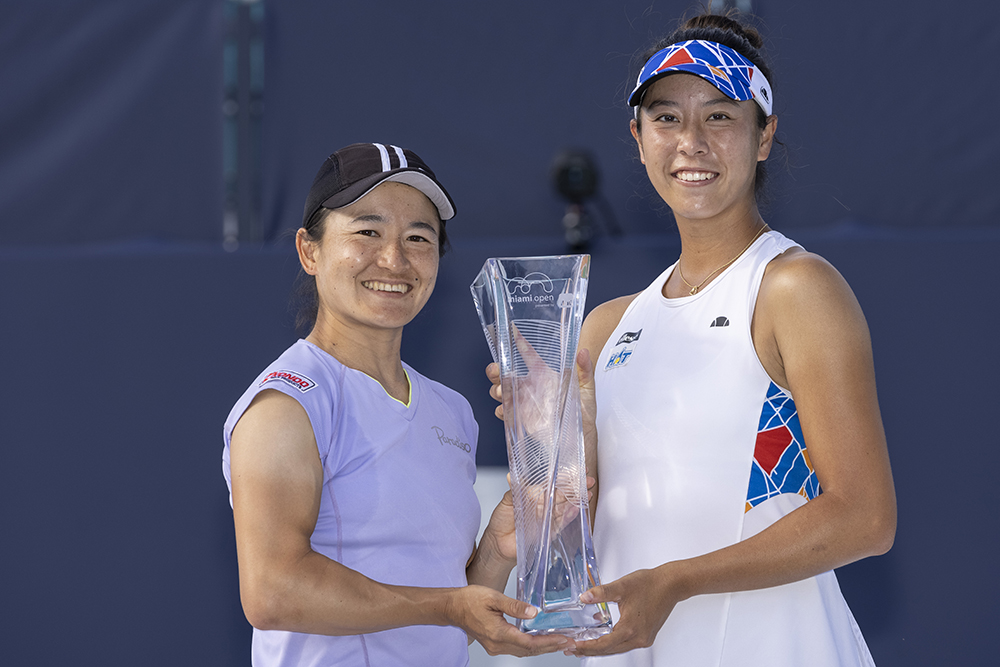 By Daniel Perissé
>> Match photos
Japan's Shuko Aoyama and Ena Shibahara won the Miami Open presented by Itaú Women's Doubles title with a 6-2, 7-5 win over Chattanooga, Tn., native Hayley Carter and Brazilian Luisa Stefani this Sunday, April 4th, on Grandstand.
Seeded fifth in the draw, Aoyama and Shibahara gave no chance to the rivals during the first set. They broke Carter's serve twice, in the third and seventh games, and took the lead in 32 minutes. The Japanese duo had 15 winners, against only four from the Brazilian and the American.
In the second set, Carter and Stefani played better and had 5-2, up a break. However, Aoyama and Shibahara fought back and won five games in a row to clinch their third title of the season.
"Yeah, as you know, we have played Hayley and Luisa many, many times and knew that they were going to fight till the end, get every ball back. I think we started off really well, finding those passing shots when we needed them. Second set they definitely played a lot better, but Shuko really played really well to bring us back in that second set. Then I feel like we fought well together in the end," said Shibahara.
This was the second final between these players this year – in January, Aoyama and Shibahara won in Abu Dhabi. Their other title was the Yarra Valley Classic. With the title, both players will move to the top 15 and reach career-high positions in doubles.
"Yeah, I think it's important, our tennis momentum, yeah, so if we have good momentum, maybe we can go good through the tournament. So we try to keep doing that at the clay season, yeah," affirmed Aoyama.
The Miami Open winners now hold a 4-1 record against Carter and Stefani. Besides the Abu Dhabi final, they played this season in the round of 16 at the Australian Open.
The American and the Brazilian reach their third final in 2021 – they also lost in Adelaide. They will move to the top 30 for the first time.