Rublev Ends Korda's Miami Dream Run, Challenges Hurkacz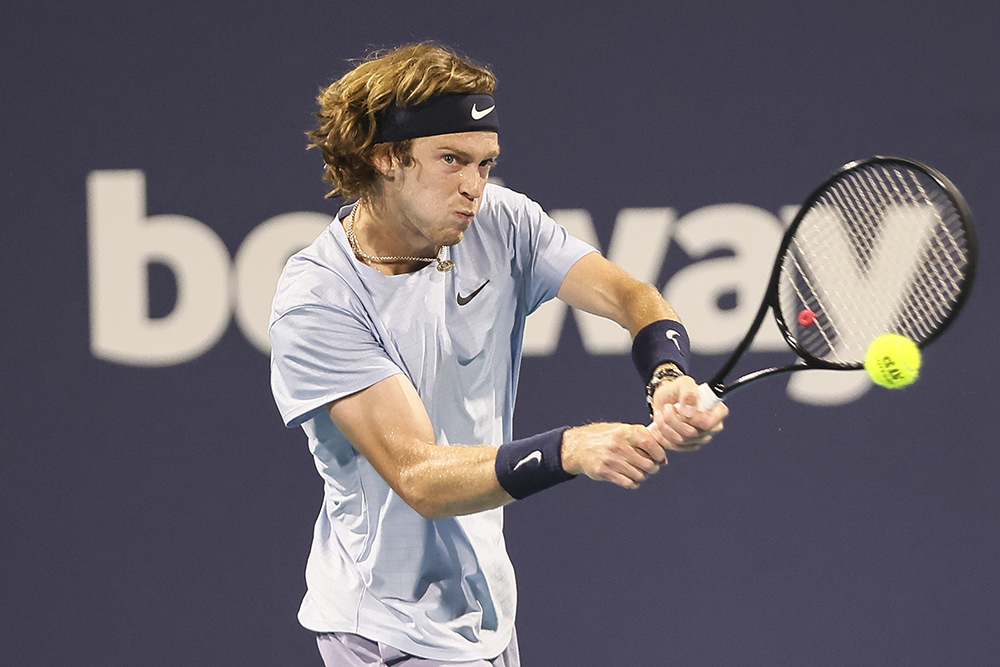 By Daniel Perissé
Andrey Rublev ended Sebastian Korda's dream debut run at the Miami Open presented by Itaú after defeating the Bradenton native 7-5, 7-6(7) and booking a meeting in the Men's Singles semifinal against Hubert Hurkacz, from Poland.
In the first set, both players were able to hold their serves until the eighth game, when Rublev broke Korda's serve to lead 5-3. However, the 23-year-old Russian was broken back by the American, who leveled 5-5 after serving.
Rublev confirmed his serve at 6-5 and had three break points in the following game, taking the lead of the match.
The second set was levelled until the sixth game, when Rublev broke the 20-year-old Floridian and had a 4-2 lead. After the seventh game, Korda asked for medical treatment and was not moving well, with leg pain, but did not stop fighting.
The set went to a tie-break and Korda took the lead 5-3 but missed some shots and let Rublev come back to win 9-7, closing with an ace. The match took one hour and 43 minutes. The Floridian had 36 unforced errors, against 13 from the Russian.
This was the first meeting between them, but considering Korda's age and talent, there will be many others to come.
"In general, Sebastian is a really great player. He's really talented. He has big shots, feels confident and he goes for them. He's making most of them. So, in the end, that's why he's great. He has a big serve. Really great at the net. He's smart. Maybe there will be a third set next time."
Rublev's opponent for a spot in the final will be Hurkacz, who beat World No. 5 Stefanos Tsitsipas 2-6, 6-3, 6-4 earlier this Thursday, April 1st.
This will be the second ATP-level match between them. The 24-year-old Polish won the previous meeting, on clay, in the 2020 Monte Carlo Masters, 7-6(6), 6-3, 6-2.
"He's a really great player. He has a really huge serve, really great strokes. He's really aggressive from the baseline. He goes for the shots, and last time we played, half a year ago, he beat me. I mean, it's going to be an opportunity for me to do better tomorrow, and we'll see if I can take the rematch or not. But I will do my best and we'll see," explained the Russian.
Rublev and Hurkacz play not before 7 p.m. this Friday, April 2nd, on Grandstand.