Sakkari Stuns Osaka and Advances to Semis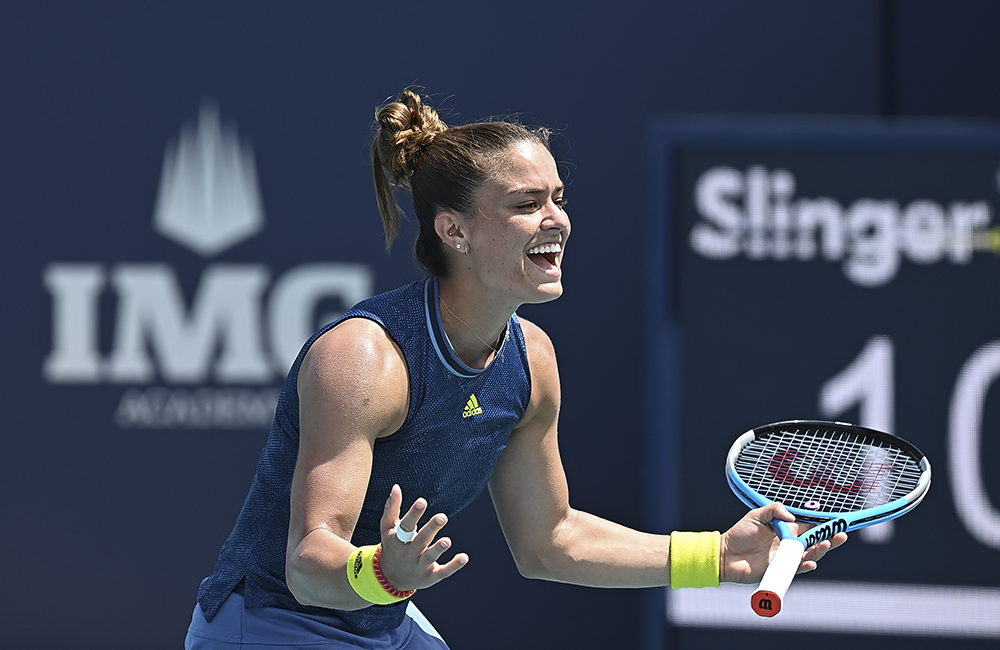 By Daniel Perissé
Maria Sakkari is known for her resilience on court. And today was one of the days in which all the hard work paid off: she beat World No.2 Naomi Osaka 6-0, 6-4 and clinched a spot in the Women's Singles semifinals at the Miami Open presented by Itaú.
There were a lot of reasons for both players to deliver a great match on Grandstand this Wednesday. While the World No. 2 reached a 23-win streak after beating Elise Mertens, the Greek saved six match points in her fourth-round win against Jessica Pegula.
However, it was Sakkari that began with a high note. Showing the same usual intensity on the court, the 23-year-old took advantage of Osaka's 12 unforced errors to break her rival's serve in the first, third and fifth games to clinch a 6-0 victory in 21 minutes. This was 15th time the World No.2 had received a bagel set at WTA or Billie Jean Cup level.
In the second set, Osaka took a 3-0 lead, breaking Sakkari's serve once. However, the Greek came back to tie 4-4, saving a break point. In the ninth game, she broke the World No.2's serve and then held her serve to clinch the victory in 69 minutes.
"Hopefully I don't lose like this a couple more times, but I think the more times that stuff like this happens, the more I'll learn from it," said Osaka, who had a chance of regaining the World No. 1 if she won the title and Australian Ashleigh Barty never reached the final.
This is Sakkari's first Miami Open semifinal in four main draw appearances. This is the second time this season she defeated a top-10 player (had beaten Sofia Kenin in the Abu Dhabi quarterfinals), and the fifth in her career prevailing over a top-5 player.
"It's just that it clicked. One day it clicked, and all the hours, you know, so actually showed the actual result on court."
The 23-year-old now waits for the winner of the clash between Canada's Bianca Andreescu and Spaniard Sara Sorribes Tormo. To advance into the Miami Open final, Sakkari knows that she needs to keep being aggressive and resilient on court.
"Of course, it took a lot of time and a lot of hours to feel that way, but, you know, having (coach) Tom always reminding, you know, myself that I have to be aggressive and stay aggressive and not becoming like a passive player helps me a lot," she explained.