2022 Miami Open presented by Itaú to Unveil Miami Open Murals Project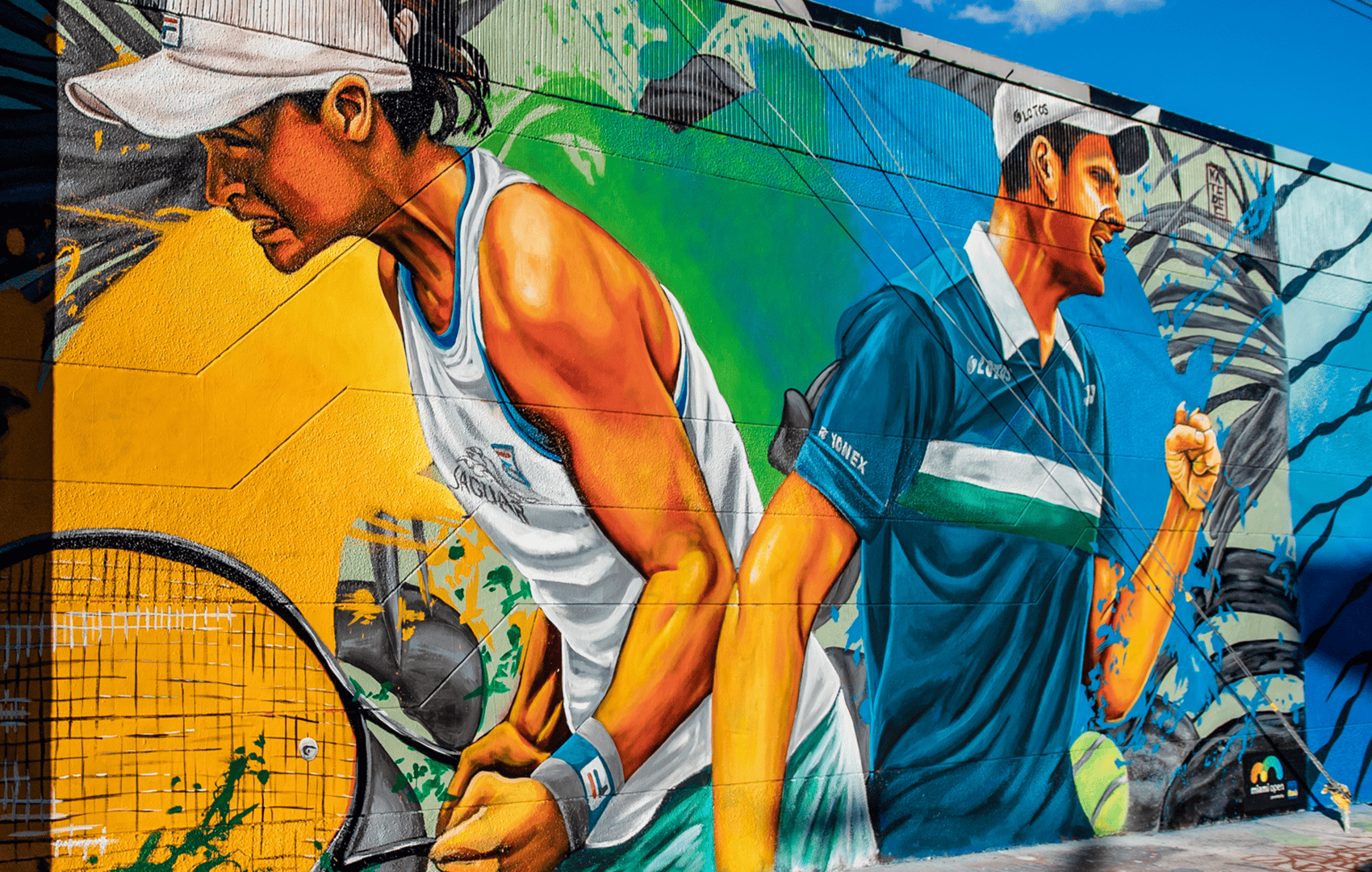 Six of Miami's top artists to produce one of a kind works of art around the tennis site
Miami Gardens, FL (March 1, 2022) – Keeping true to its commitment to provide a complete entertainment experience to its guests, the Miami Open presented by Itaú will feature unique works of art by six of Miami's top artists when it unveils its Miami Open Murals project as part of the 2022 event.
The line-up of participating artist is a who's-who of the Miami art scene including Marcus Borges better known as Grabster, Nicole Salgar, Diana Contreras, Jay Bellicchi also known as Remote, Nathan Delinois known as Nate Dee, and Sergio Quinonez better known as Surge.
The murals will be located in many areas of the site and will feature a number of different themes including a Nate Dee tribute to Serena Williams who has won the tournament a record eight times, and a tennis fashion inspired piece by Diana Contreras. Grabster will also be producing a tennis inspired piece, while Nicole Salgar's work will be inspired by the flora of South Florida. Remote will be painting a piece inspired by abstract graffiti and Surge's creation will be a tribute to Miami's diverse culture and culinary arts.
The Miami Open presented by Itaú, taking place March 21-April 3, will be bigger and better than ever before in 2022. The festival atmosphere and complete entertainment experience that has made this iconic event the place-to-be in March will be back. Guests will enjoy the best that Miami has to offer including amazing culinary options, live music and artwork by top local artists. The Stadium Court within Hard Rock Stadium returns and the revamped site will include new infrastructure, additional seating on the outer-courts, and more green space where fans can relax when taking a break from the outstanding tennis action.
Tickets to the 2022 Miami Open are on sale now and available by phone at 305-943-6736 or online at www.miamiopen.com. Individual session tickets start at only $18 so get your tickets today. Ticket packages, group programs, and luxury hospitality offerings also are available.
ARTIST BIOS
Marcus Borges AKA Grabster (IG: @grabster)
Born in Brazil, raised in New York, and developed in South Florida, Grabster pulls inspiration from decades of independent study and his eclectic upbringing to create colorful, dynamic, and skillful works. His technical expertise is a facet of his work, evident in his geometric and precise designs built to any scale. Grabster was a featured artist at the 2020 Salvador Dali exhibit, The Real Surreal, and has collaborated with large organizations like Hilton Hotels, Mountain Dew, and Red Bull to create murals, branded installations, and art aimed at community engagement. Recognized for his retro-futuristic elements, abstract geometry, and tropical color schemes, Grabster's work can be found worldwide and across South Florida, where he's been an established member of the street art community for over 15 years.
Nicole Salgar (IG: @nmsalgar)
Nicole Salgar is a multi-media visual artist from Miami, FL. Influenced by her Latin roots and passion for horror, sci-fi and folk art, Nicole has traveled to Cuba, Europe, South America and along the east coast collaborating on mural projects with local communities. Often using muralism as a meditative and healing practice, she invites viewers to challenge their perspectives and assumptions which may arise from her ambiguous motifs. Nicole finds that experimentation is the key to creation and without it, nothing truly effective has the chance to reveal itself. Through her creative business NS/CB, she's worked with a variety of clients including Starbucks, Tanqueray, Lululemon, Steven Madden and Bacardi.
Diana Contreras (IG: @didirok)
Diana Contreras (b. Peru, 1981) has established herself as an influential Miami artist. From painting murals in the Urban Art scene to exhibiting canvas pieces in galleries, her work has been seen in exhibitions and private collections in several parts of the world including Street Art Dubai Gallery in Dubai. Contreras's primary medium is oil, and also enjoys experimenting with anything she can get her hands on. From canvas, walls, stickers to shoes, her work embodies femininity and always sets her characters in whimsical portraitures. Her distinct style emerges from her love of classical techniques infused with her passion for illustrations and street murals. Contreras received her B.S. in Art Education and a Post-Graduate of Art in Education from Florida International University. She also studied abroad in Florence, Italy where she focused on Art History. Additionally, Contreras was enrolled at the Art Students League of New York in New York City.
Jay Bellicchi AKA Remote (IG: @remoteroc)
Jay Bellicchi, a Boston transplant, has taken his place in the Miami art scene as a dynamic artist influenced by his history in graffiti and graphic design. His father was a successful artist and graphic designer who inspired him at a young age. In the 1980's Jay was further influenced by hip-hop music and the elements surrounding it. It was within the hip-hop culture that he discovered the element of graffiti art and was given the name by which he is still known today, REMOTE.
Nathan Delinois AKA Nate Dee (IG: @miaminate)
Born and raised in South Florida, Nathan Delinois (Nate Dee) has numerous influences… this includes his Haitian background and the use of color in a lot of Haitian art, as well as in street art. The design quality of the Art Nouveau movement and the drama of Greek art from the Hellenistic. These elements can be seen in his work. Additionally, he takes some influences from the pop surrealists. He has been featured in magazines such as Delve, Making Waves, WeMerge, DUO & the Miami New Times. In 2014 The New Times listed him as one of the 10 Miami Artists to folow on Instagram. In 2013 he was also given an Honorable mention by the magazine for their 2013 Miami Masterminds awards. He's been featured on multiple blogs and has displayed his work in exhibits throughout South Florida.
Sergio Quinonez AKA SURGE (IG: @illsurge)
Born in Los Angeles and raised in Miami, Postgraffisim artist, Surge, has taken his bold, unmistakable style straight from his sketchbooks to the sun-stained streets of South Florida and beyond. Surge's love for cartoons and brilliant colors, along with a passion for hip hop culture, has shaped his artistic identity and resulted in work that can now been seen everywhere from walls in Miami's legendary Wynwood Arts District to live painting performances during some of the area's most high-profile events.  His vibrant illustrations feature anthropomorphized characters that are both brash and inviting. Surge has worked with Brands like NIKE, Jameson Whiskey, the NBA, the Miami Dolphins, Microsoft, Bloomingdales and Bud Light to name a few.  It is the ability to be daring and free with his art that is ultimately closest to Surge's heart.