Brands Activating Bigger Than Ever at Miami Open presented by Itaú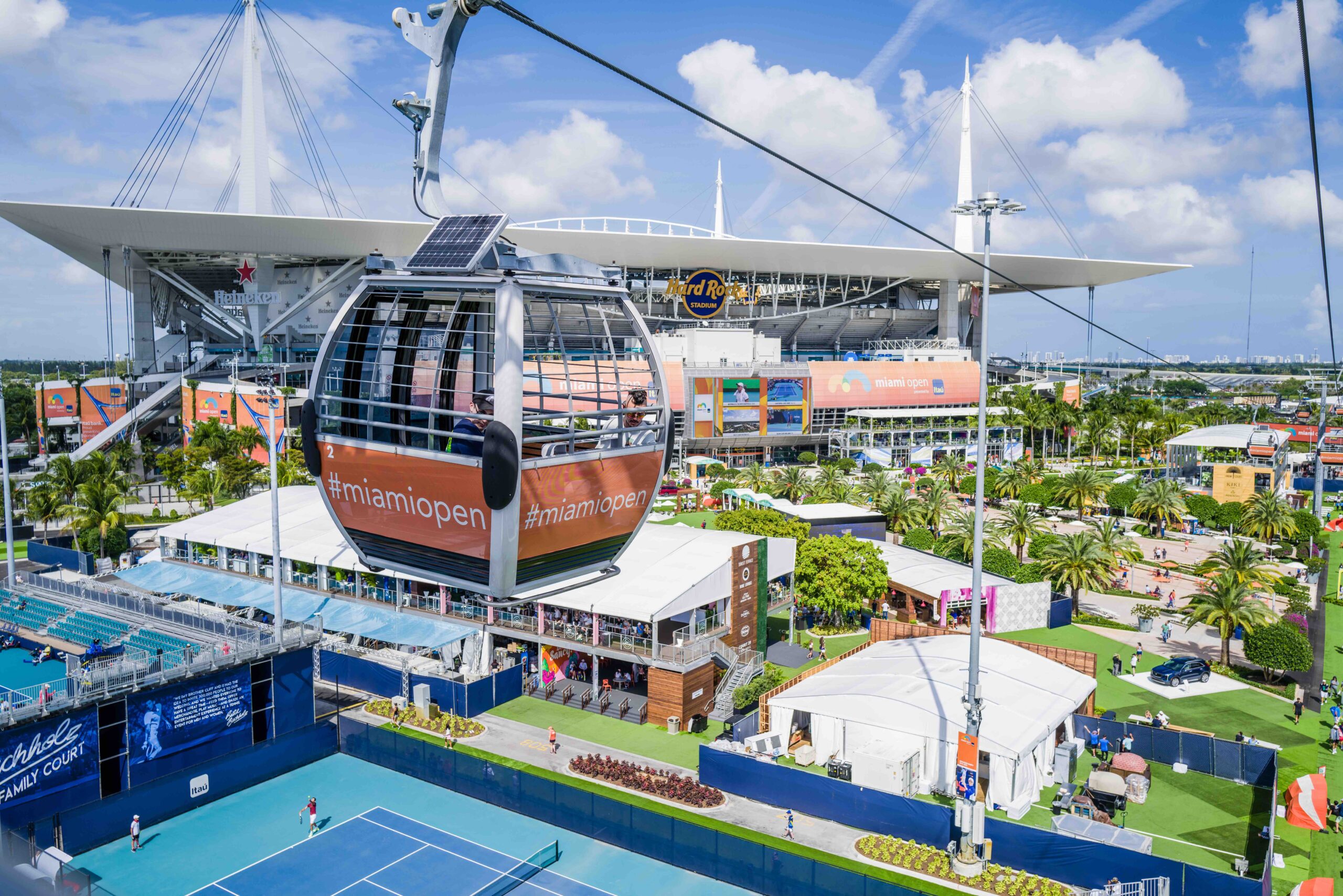 Tournament returns to full capacity, March 21-April 3, 2022 
MIAMI, FL (March 19, 2022) – The Miami Open presented by Itaú is back in full swing March 21 – April 3 and features an impressive slate of the world's biggest brands activating with innovative and immersive experiences during the iconic tennis and lifestyle festival held at Hard Rock Stadium.
Known for its international slate of partners, the Miami Open has recovered from the COVID-19 slowdown with many of its global brand sponsors back to business in ways not seen before.
Itaú, the largest private bank in Latin America, has been the Miami Open's presenting sponsor of the tournament since 2014 and continues to raise the event at all levels, returning from a pause because of the pandemic to invite more guests and customers than in prior years and retaining the premier position as the tournament's major partner.
Similarly, the Paris-based lifestyle and performance brand leader Lacoste is back and will literally elevate its activity and experience for fans at the Miami Open with a new, three-story boutique. Lacoste will feature its tennis and non-tennis merchandise for fans to purchase on one floor while providing a unique customization of its products on the second floor.  The third floor will be converted into a unique corporate hospitality footprint for its key customers and guests.
The Miami Open is also proud to have the balance of its international Platinum sponsors return, including Rolex, Emirates, and Betway.
Domestic-based global brands are also back in force.  Cadillac, the Official Vehicle of the Miami Open, will debut its never-before-seen Cadillac Electriq Theater, an immersive and exciting cinematic experience showcasing Cadillac's 120-year iconic history and its new all-electric LYRIQ. Cadillac also provides more than 90 vehicles to the tournament mobilized to transport players and VIP's.
Hologic, the official and exclusive women's health partner and equality champion, is the newest Platinum level partner and the WTA Tour's global sponsor. The San Diego, CA-based company will have most of its 2022 activation aligned with branding and virtual advertising during all WTA matches.  SAP, the Official Analytics provider, elevates its position by featuring various data driven LED signs offering spectators and players unique statistics throughout the competition.
Michelob Ultra extended its relationship with the Miami Open for another three years and will host a major beverage and entertainment experience on the Sunset Terrace. Kim Crawford returns to have its major presence on this same platform which will overlook the new 3,500-seat Buchholz Family Court.
Maestro Dobel Tequila will debut as the Official Tequila of the Miami Open, making it a great addition to this year's spirits and beverage lineup. Dobel has created the new official tournament cocktail—The Ace Paloma–that fans can enjoy at the Dobel Tequila Bar, as well as around the site.
The Ace Paloma is a combination of Maestro Dobel Diamante, simple syrup, fresh lime juice, fresh grapefruit juice, fever-tree grapefruit soda – served over fresh ice into a diamante glass, and garnished with a rim of kosher salt and a pink grapefruit wedge.
Baptist Health and Dunlop round out the balance of the Gold category. Baptist Health provides medical services for the players and fans and will be the featured brand on the brand-new Baptist Health Lawn. Dunlop continues as the Miami Open's official tennis ball and is featured as the ATP's worldwide ball sponsor. TennisONE returns as the Official App of the Miami Open tournament.
The remaining line-up of the Miami Open's impressive partner cast includes Laykold  (the tournament's official court surface since 1985 marking it as the longest partnership between a tennis tournament and a court surface), Veroni Salumi, Champagne Pommery, Lasvit (which will have the honor of producing this year's Butch Buchholz championship trophy),  Acordis Corp, Fast-Dry Courts, and Greater Miami Convention & Visitors Bureau, IMG Academy, Quest Diagnostics, Steve Furgal's International Tennis Tours, Samsung, Bubbly and Vitality Wellness.
Tickets to the 2022 Miami Open presented by Itaú are on sale now and available by phone at 305-943-6736 or online at www.miamiopen.com. Individual session tickets start at $18 so get your tickets today. Ticket packages, mini-plans, group programs, and luxury hospitality offerings are also available.
Qualifying rounds will be March 21-22 and will determine the final 12 slots in each singles' draw. The women's main draw begins on Tuesday, March 22, followed by the first round of the men's main draw on Wednesday, March 23.
About the Miami Open presented by Itaú
The 2022 Miami Open will be played March 21 – April 3 at Hard Rock Stadium. The two-week combined event is owned and operated by IMG. The Miami Open is one of nine ATP Masters 1000 Series events on the ATP calendar, a WTA 1000 event on the WTA calendar, and features the top men's and women's tennis players in the world. The tournament is widely regarded as the most glamorous on the ATP and WTA calendars because of Miami's unique personality, thriving nightlife, five-star hotels and restaurants, beautiful weather and beaches, and celebrity appeal, as well as its proximity to both Fort Lauderdale and Palm Beach. For ticket information, visit www.miamiopen.com.
About Itaú
Itaú Unibanco is a Brazilian bank with 95 years of history and is currently the largest privately-owned bank in Latin America. It is present in 18 countries and has more than 90 thousand employees, in addition to a service network composed of approximately 4.5K branches throughout the region. It is a full-service bank, offering financial products and services to individual customers and companies in all segments.
About IMG
IMG is a global leader in sport, events, fashion, and media. The company manages some of the world's greatest athletes and fashion icons; owns and operates hundreds of live events annually; and is a leading independent producer and distributor of sports and entertainment media. IMG also specializes in licensing, sports training, and league development. IMG is a subsidiary of Endeavor, a global entertainment, sports, and content company.
About Hard Rock Stadium
Hard Rock Stadium is a global entertainment destination and cultural curator of world-class events. The best-in-class venue is a home to the Miami Dolphins, University of Miami football team, Orange Bowl, Miami Open, F1 Miami Grand Prix, major concerts, championship boxing and international soccer. For more information, visit hardrockstadium.com.