2023 Miami Open Presented By Itaú, Brings the City's Flavors to Hard Rock Stadium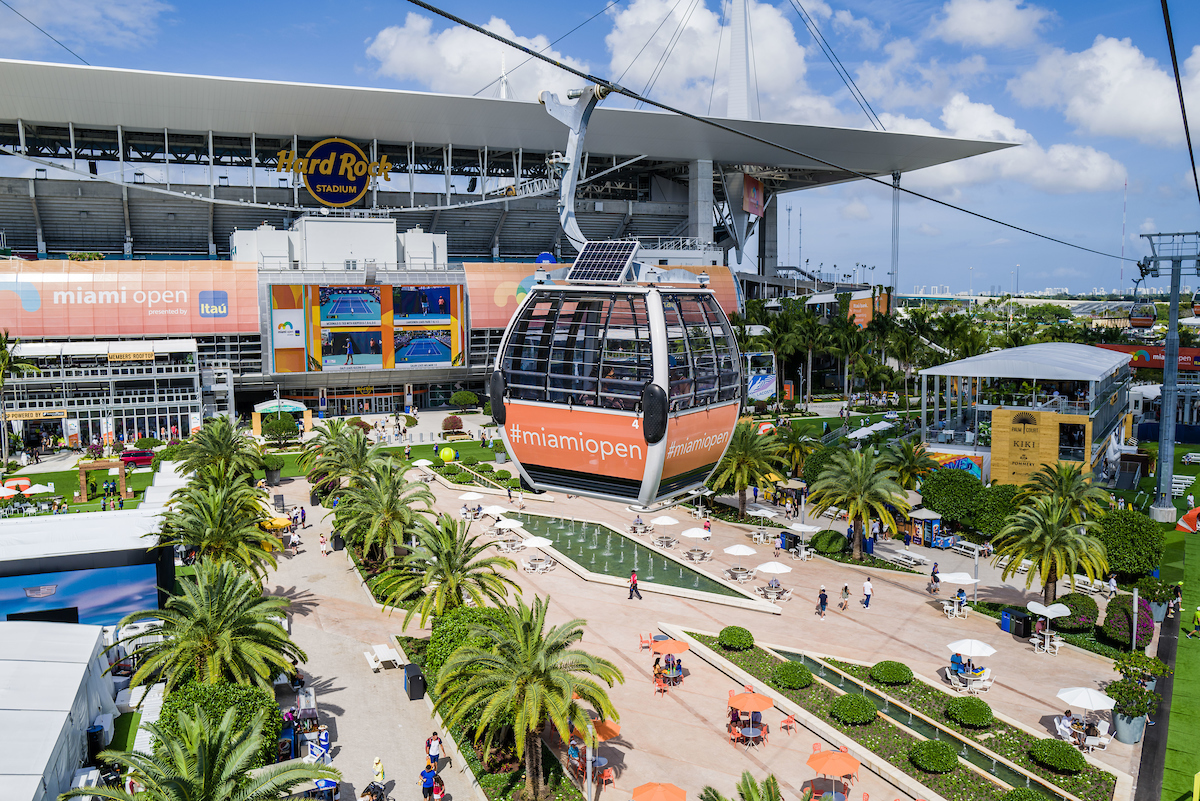 New on-site offerings from Stella Artois, American Social, Ella's Oyster Bar and Casa Florida, along with returning fan-favorites Kiki on the River, Novecento and more will make the tournament an all-day tennis festival
Tickets to the 2023 Miami Open presented by Itaú are available now at www.MiamiOpen.com/tickets
Miami Gardens, FL (February 7, 2023) – The Miami Open presented by Itaú announced the first group of food and beverage partners and other on-site offerings for attendees at this year's tournament, and the city's culinary favorites will be there in full force. The tournament returns to Hard Rock Stadium beginning Sunday, March 19, bringing world-class tennis to Miami for 15 days straight, for the first time ever.
"With a Sunday start this year, we can bring an extra day of the best tennis in the world to Miamians," said Miami Open Tournament Director, James Blake. "We're also thrilled to offer a taste of the city to those on campus from around the world. Miami's culture is so unique and vibrant, and we're proud to be able to showcase it on site, bigger and better than ever before."
The Sunset Terrace is getting a new look this year with Stella Artois joining Maestro Dobel Tequila who returns as the tournament's Official Tequila and Official Cocktail Sponsor, on the top floor, along with local Miami seafood restaurant Ella's Oyster Bar. Attendees can grab an ice-cold beer, or an Ace Paloma, the tournament's signature drink made with Maestro Dobel Tequila, and some oysters, while enjoying the new Viewing Deck overlooking the Butch Buchholz court. Viewing Deck seating is first come first served for those looking to catch the action and a bite to eat and drink.
Court 29 Food Hall, on the bottom level of the Sunset Terrace, is also getting a fresh look, with a new LED screen, so fans won't miss a moment of the action while fueling up. The food court will once again be comprised of six local Miami restaurants, including Novecento, Omakai, SuViche, Cheeseburger Baby, Dos Croquetas, and Chef Jimmy Dean's Kitchen & Chuck Wagon, giving attendees a true taste of the city.  Santa Margherita, the new Official Wine of the Miami Open, will be taking over the food court and creating a beautiful rose garden bar offering Rosé and their world-famous Pinot Grigio to fans so they can cool off in refreshing style.
New to campus this year, Frites Artois by Stella Artois, located across from the Sunset Terrace, will pair the best beer with the best frites, elevated with sauces by celebrity chef Roy Choi. Also on the lawn area will be returning fan favorites, Ella Coffee, Bodega Taqueria y Tequila and Forno Flatbreads.
Also returning this year is tournament favorite, Kiki on the River, located on the top floor of the Palm Court with great views of the entire Tennis Oasis. New to the Palm Court and the Miami Open is Botran Rum, hosting a shaded (and air conditioned) rum lounge, offering craft cocktails with their award-winning aged rum, and respite from the Miami sun at the ground floor, as the Official Rum of the Miami Open.
New to the South Plaza this year is Miami's favorite sports bar and restaurant, American Social Bar & Kitchen, where for the first-time at Hard Rock Stadium, attendees will be able to reserve a table for plan-ahead dining on site.
Hotel and cocktail bar, Casa Florida, will also take over The Grove with its signature flamingo-pink décor and drinks. Whether you're a city native or visiting from across the globe, everyone is guaranteed to enjoy a taste of Miami at the tournament.
Tickets for the 2023 Miami Open presented by Itaú are on sale now at www.MiamiOpen.com/tickets and start at $18. From Single Session and Grounds Passes, to Full Tournament Duration Packages and Suites & Lounge Passes, there's an experience for everyone at the Miami Open. This is your chance to see the greatest players in the world compete for one of the most prestigious titles in tennis.
For more information and the latest news, follow us at @MiamiOpen on Instagram and Twitter and @MiamiOpenTennis on Facebook.