Alcaraz Feels 'Like Home' in Miami, no Pressure to Defend Title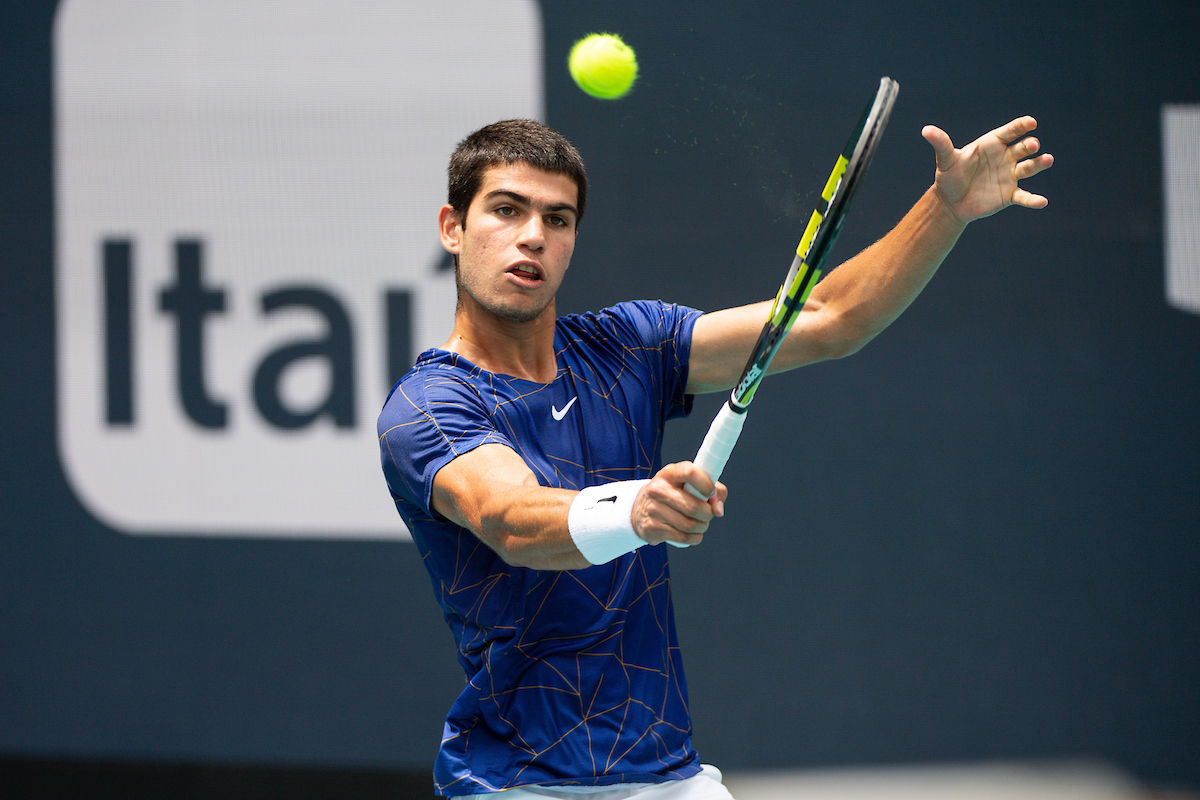 Return to Hard Rock Stadium as World No. 1 is 'special' for the Spaniard
by Daniel Perisse
Miami Gardens, FL (March 21, 2023) – Nothing seems to disturb Carlos Alcaraz – not even several journalists who wanted to hear the Spaniard's first official words to the press after arriving in Miami as World No. 1.
In a round table during Media Day, the defending Men's Singles champion of the Miami Open presented by Itaú called the Magic City "home" and confessed that returning here on top of the ATP Rankings is "special".
"Well, everything happened so fast. Last year in Miami I was out of the top 20 last year and now I arrive as number one, that is very special. I have made my dreams come true faster than I expected," said Alcaraz.
The truth is that he really can't complain. The Spaniard is 14-1 this season, won two titles (Buenos Aires and Indian Wells) and seems to have no rival now. Consequently, there no margin to improve, right?
"I always say that you can improve everything, you know, a little bit more. You can't get stuck in your game, you must improve, you must get better every day. That's what the Big 3, for example, did during their careers, improved every day a little bit."
Another question answered by Alcaraz was about the weight of expectations on his shoulders: there aren't any.
"I don't feel the pressure too much, I know the things that I have to do, play relaxed, you know, I don't mind if I lose or not, or if I play well of not. My goal is always the same: to feel comfortable on court, to enjoy playing tennis, trying to make great shots in the match. That's what I am and that's why I am playing at the upper level, because I am enjoying every single second, I play relaxed and that's what all I am thinking about on court."
The Spaniard also confessed he "feels like home" playing here at Hard Rock Stadium.
"There are a lot of people speaking Spanish or that are Spanish, so I enjoy playing here. I feel like home, with a lot of people supporting me. I feel the love in every practice, in every match, every single second here, so for me it's very special to come back here and to feel that same energy I felt last year," exclaimed the World No. 1.
Seeded No. 1 in the Men's Singles draw, he will skip the first round and waits for the winner of the match between Argentinian's Facundo Bagnis and a qualifier. Alcaraz showed the same precision of his shots when he spoke about how Rafael Nadal and Novak Djokovic are important to the game.
"Yes, of course. I am a professional tennis player, but I am also a huge fan of tennis, I always want to watch the best players in the world like Rafa, like Djokovic, every top player, you know. Of course, I have played a couple of times against Rafa and I wish to play against him more and with Djokovic as well, I wish to play against him more times. I want them to be playing in every and I hope to have them back soon."
The only moment the Spaniard seemed to be hesitant about was his preference – being World No. 1 or lifting trophies at the Majors. "It is a tough question; it is a really difficult question to answer… but I'd rather win a Grand Slam".