Everything Everywhere All on Court: From Ball Person to Warm-Up Partner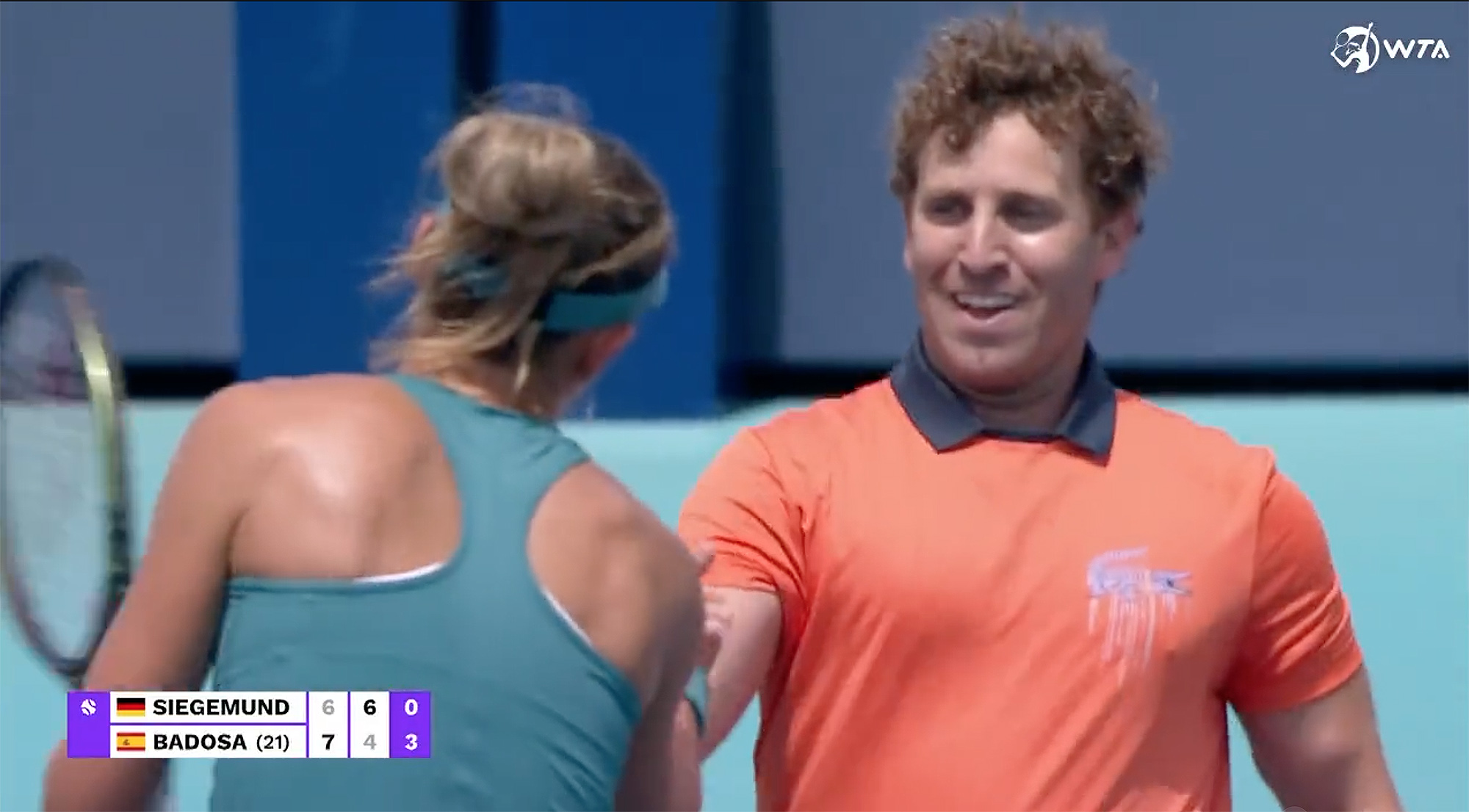 Ethan Goldstein played a few points with former World No. 2 Paula Badosa
by Daniel Perisse
Miami Gardens, FL (March 23, 2023) – It's Wednesday afternoon and court Butch Buchholz is packed to see No. 21 seed Paula Badosa take on Laura Siegemund in a 2023 Miami Open presented by Itaú Women's Singles second-round match. The German qualifier asks for a medical timeout in the middle of the third set and the Spaniard needs to keep herself warm while waiting.
"Does anyone here play tennis?," asked the umpire. Ethan Goldstein, one of the ball people on court, was standing at the net while working on his first match of the day and promptly said yes.
He had no idea of what would happen next: the Spaniard handed him one of her racquets and he ran to the other side of the court to hit a few balls with the former World No. 2, to the delight of the crowd – and his own.
"I said 'yes' not knowing what it would lead to, and next she was handing me a racket," exclaimed the 33-year-old ball person from Wilmington, Del.
In 2010, Ethan played for the University of Delaware tennis team during the freshman year of his Major in Exercise Science. Now a physical therapist at Sweetwater, Fla., he hadn't played for the last two weeks, but accepted the task.
"I was a little stiff, but I like to play as much as I can, I usually do it around two or three times a week".
Ethan and Badosa hit for over a minute, and he performed well against the No. 21 seed – except when she finished a rally with a drop shot. "I didn't have the wheels for it," he explained.
Surprisingly, this was not the first time the 33-year-old had the chance to play points with a tennis pro player: when he was 10 years old, in a Team Tennis event, he had a chance to return some serves from Martina Navratilova. Unlike today, he barely saw the balls coming.
"She served at me, it blew right past me. I don't recall returning any of the serves, but luck struck twice for me. Today I got two or three balls back even," affirmed Ethan, who will take this experience at the Miami Open for good.