'Foe talk', the Click, Rain Delay: How Chris Eubanks Reached the Top 100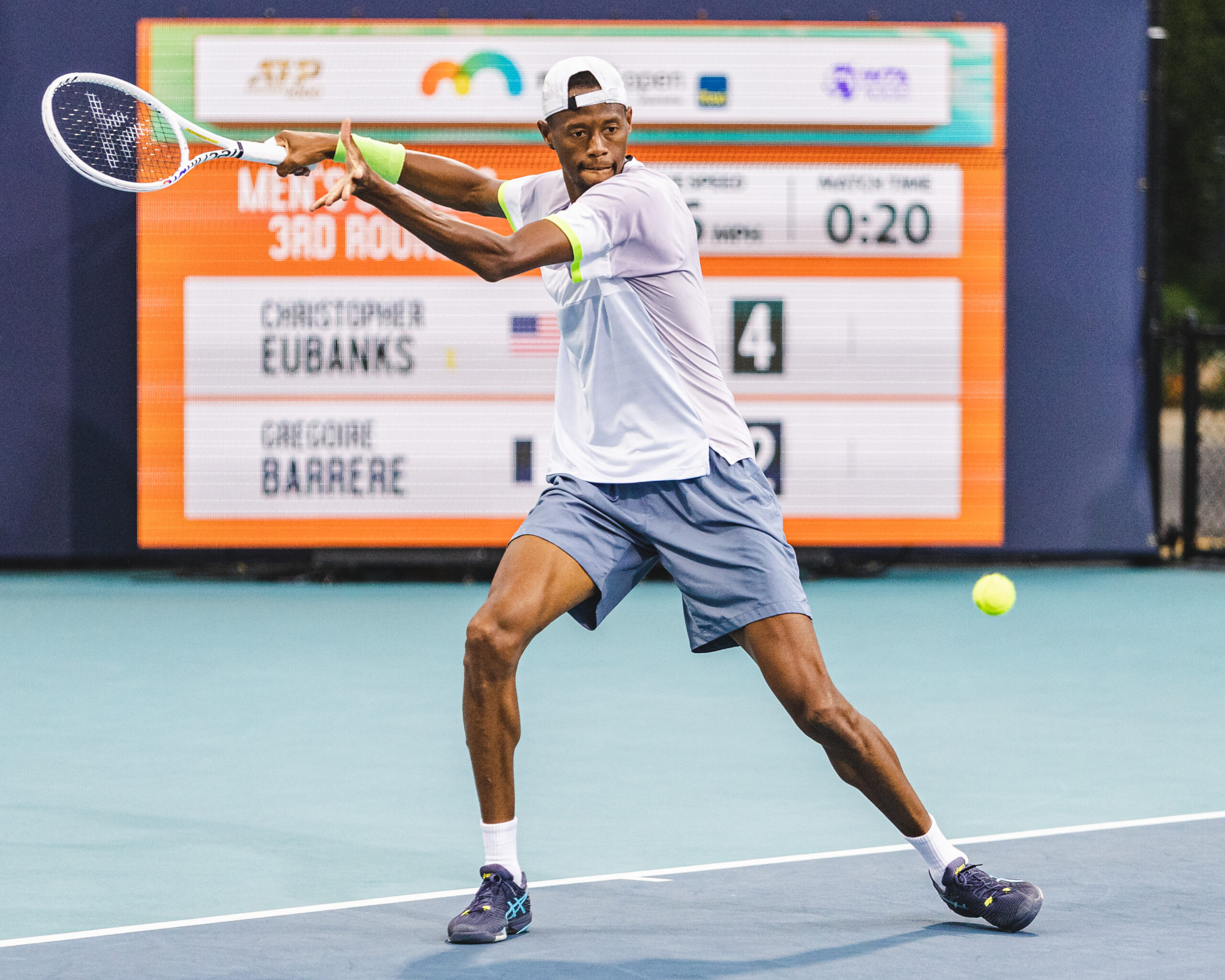 Currently at World No, 119, Atlanta native is having his best career run in Miami
by Daniel Perisse
Miami Gardens, FL (March 28, 2023) – Some people have to be the best at what they do to stand out – or perhaps be in the top 20. Or 50. Or even in the top 100 – for Atlanta native Christopher Eubanks, that is exactly where he will be projected to be as of next Monday after reaching the 2023 Miami Open fourth round, his best career run in a Masters 1000 tournament.
So far, he has beaten one seeded player: No. 17 Borna Coric, from Croatia in the second round. On Monday night, after a 90-minute rain delay, he came back after trailing 5-2 in a second-set tie-break against Gregoire Barrere, clinching the win 6-3, 7-6(7). After shaking hands with the Frenchman at the net, Eubanks put both hands on his head – he couldn't believe what he just had done.
"I'm not checking rankings, I don't care, not focusing on that. And then after the match, my coach said: 'just so you know, that match just put you in the top 100'. I said 'wow' for the next few minutes, it's crazy. It's nice," exclaimed Eubanks, who will reach a projected World No. 97 ranking next Monday.
A former two-time All-American and two-time ACC Player of the Year defending Georgia Tech on college tennis from 2015 to 2017, the Atlanta native considered stopping professional tennis at the beginning of the season.
"The past weeks have been tough because I was thinking about the top 100 and everything, then I had some losses I shouldn't have and was second-guessing a lot about my game and everything. I decided to throw the stuff out the window and not even think about it. This week I said I was going to delete the rankings, just going to focus on the play every single match," commented a very emotional Eubanks right after his win against Barrere.
The Atlanta native explained that one of the factors that motivated him – a "click," in his own words – to do better was his second-round qualifying win against Lukas Klein of Slovakia, 6-7(2), 6-3, 7-6(4).
"I told my coach that I might have had one of the most satisfying wins as a professional because Lukas Klein was playing very well, we had to battle to get through that, and I think that was a grateful win". Another factor that helped Eubanks is coach Ruan Roelofse, who lives in Boyton Beach, Fla.
"We started at the US Open qualifiers, then I moved and had my first Grand Slam match win there, so I had some pretty big milestones in my career. A lot of it is me being more diligent with the stuff I can control, which I haven't been in the past, but I think we have been doing some pretty good stuff emphasizing my strengths, he's helped me a lot with transitioning to the net, getting more comfortable at the net and we've done some good work, I hope we continue."
However, the rain delay seemed to be the most important thing for Eubanks yesterday since it promoted a "pep talk" from good friend Frances Tiafoe:
"I bumped into him in the locker room, and we talked about our matches. I said something about taking my match to three sets, and he made a statement, 'don't worry about the third the rain delay could have affected your opponent as much as it affected you, so don't think about a third. Think like you're going out here and winning the tie-breaker. I said I could do that."
During the tie-break of the second set, the American was down 6-2 and came back to clinch his first Masters 1000 fourth-round match. And there it was. As of Monday, things will be different for Eubanks' career. "Top 100 is a benchmark. I think every professional tennis player it's a big deal for them. Everyone wants to get on the main draw of the grand slams. I think it solidifies you as a real pro, and out of everybody in the world that plays tennis, at some point, you are one of the 100 best tennis players in the world. Like, it's a lot of people who play tennis. A lot of people. And to be in the top 100 to do it. It feels good."