Iga Pulls Out, Leaves Miami with 'Good Memories' from 2022 Title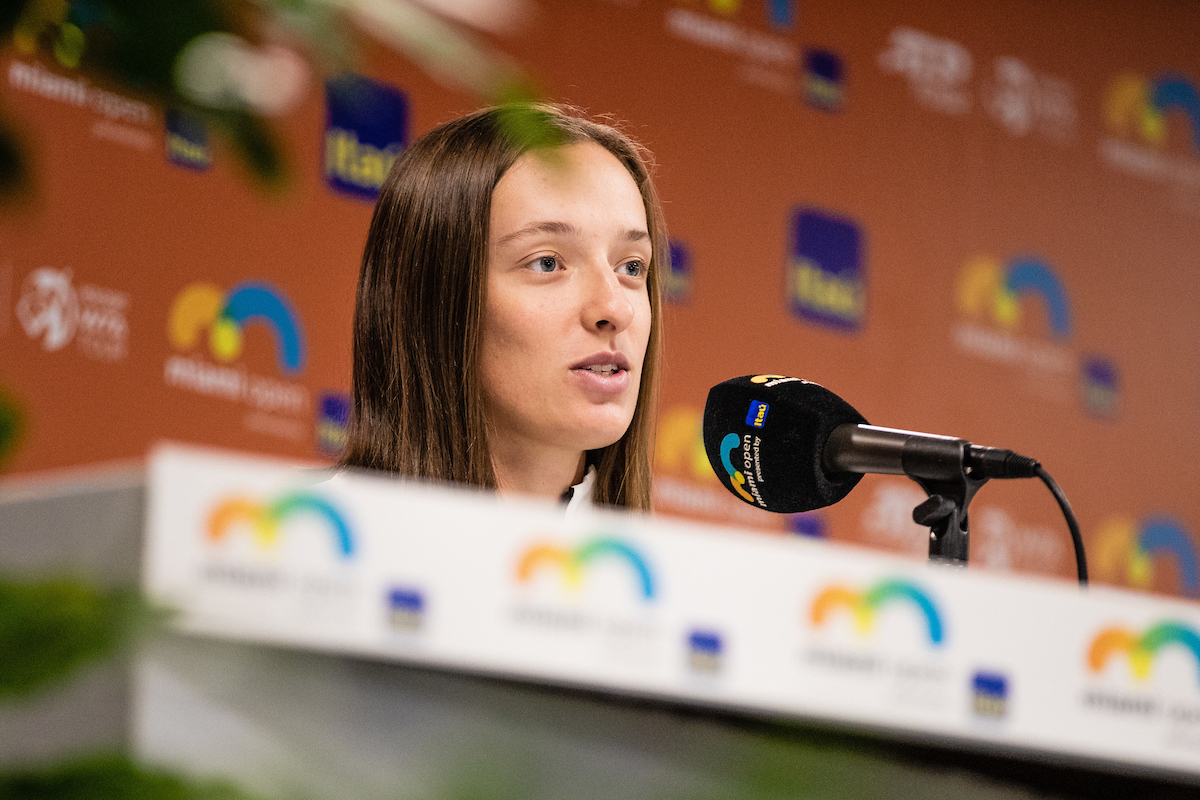 'For sure I would like to repeat it this year, but I know it is not possible', says WTA's No. 1
by Daniel Perisse
Miami Gardens, FL (March 22, 2023) – After days of silence following her defeat in Indian Wells, Iga Swiatek held a press conference at Hard Rock Stadium this Wednesday, March 22. The WTA World No. 1 confirmed her withdrawal from the 2023 Miami Open presented by Itaú due to a rib injury, but leaves "only having good memories" from the Magic City.
"So, yeah, I have only good memories from here, maybe except that," explained the Polish player, who will not be able to defend the women's singles title.
Maybe in a way to cheer up in the face of such heart-breaking news, Swiatek remembered her trophy run at the Hard Rock Stadium last year.
"I remember it was physically really hard, so I was really proud that I could finish the tournament so well. For sure I would like to repeat it this year, but I know it's not possible. I know I'll have many more chances on other tournaments".
According to the World No. 1, she waited until "the last minute" to understand the issue. "We were kind of checking if this is the kind of injury you can still play with, or this is kind when you can get things worse. So, I think the smart move for me is to pull out of this tournament because I want to rest and take care of it properly".
The 2022 Miami Open champion described it as a process. "It's not like it happened in one minute or one second. It's not, like, a serious thing because we caught it up pretty early," said the Polish, who decided to finish Indian Wells anyway.
But where exactly is the injury? Could she be more specific? "I don't want to," she answered.
Another question that has no response relates to when – and how motivated – Swiatek will be on court.
"I'm going to lose points from this tournament, but it doesn't change anything in terms of my approach and my mentality. I was also aware at the beginning of the season that it's going to be hard for me to defend all these points because it's not, like, these streaks, winning all these tournaments is like, looking logically and statistically, it's not like it's going to happen every year."
"What's going to happen next, we'll see. Obviously, it's going to depend on the recovery. Yeah, but for now it's not a horrible scenario. It happens," added the Polish, who had a 37-win streak in the 2022 season that included titles in Doha, Indian Wells, Miami, Stuttgart, Rome and Roland Garros.