Kvitova denies Rybakina's Double, Clinches Career 9th WTA 1000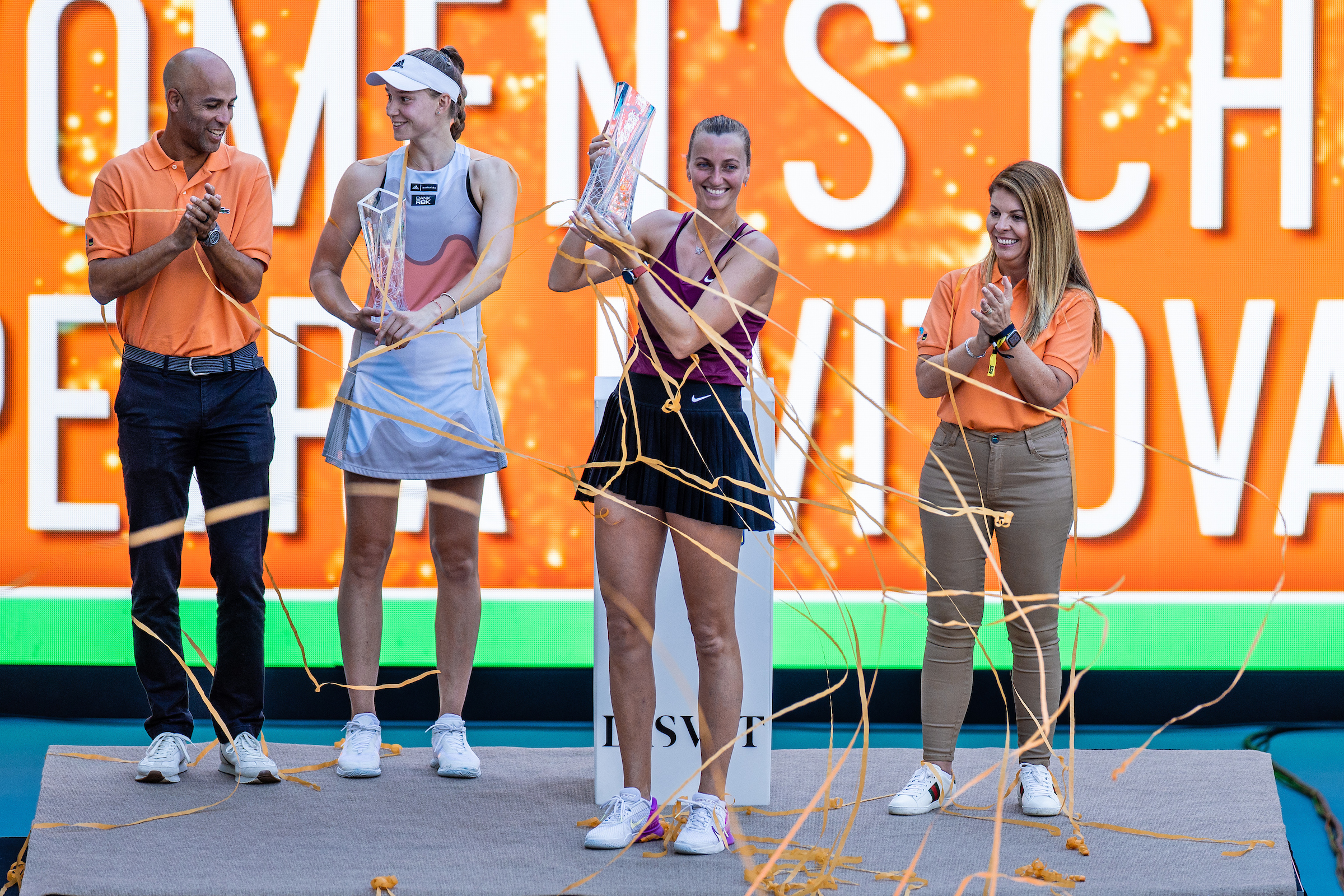 33-year-old Czech Will Return to Top 10 with Miami Open Title
by Daniel Perisse
View Women's Singles Final Photo Gallery
Miami Gardens, FL (April 1, 2023) – Two weeks ago, all eyes were focused on Elena Rybakina's title in Indian Wells and her possible Sunshine Double. But there was Petra Kvitova to spoil the party: the Czech went all the way into the final and ended the Kazakh's dream by defeating her 7-6(14), 6-2, clinching her ninth career WTA 1000 and her first Miami Open presented by Itaú title.
Rybakina stepped into the court holding a 13-match winning streak – her last loss was to Brazilian Beatriz Haddad Maia in the Abu Dhabi quarterfinals in February –, while Kvitova was seeking the 30th title of her career at 33 years old.
"I think the experience today played a good role in my mind, to be honest. I played so many finals. I know I can play well in the final no matter who I'm facing. So that's I think mentally was very important for me to know that from all experience. Yeah, of course this means a lot. The young ones are coming up all the time. It's tough to really face them all the time (smiling). It's very tiring. Elena is young, as well. So, yeah, it's still tough to compete, of course, with all of them," emphasized the Czech.
The No. 15 seed controlled the match from the beginning and had a chance to end the first set in the tenth game, serving at 5-4. However, that was the moment the 23-year-old Kazakh converted her first break point and levelled 5-5.
The set ended up going to a tie-break that lasted 22 minutes, in which both players had some chances to clinch the victory – however, it was Kvitova who ended with the win, 16-14, after saving five set points.
"Yeah, for sure the tiebreak was deciding today I think, to all the match. I think it was the longest one I ever played in my life, and it was like, yeah, if I didn't serve, I couldn't be there. I mean, I got like three aces at the beginning, and it was tough. I had a break like in the first set, and she broke me back. It's nothing easy to be hanging out with Elena as I did today."
Rybakina did not seem to have faced the adversity well. She began erratically the second set and was broken once again to stay 3-0 behind.
"Yeah, maybe if the first set would have gone my way, the second would have been different, but of course because I was physically a bit tired, I think that's why I didn't have discipline in the important moments. I was also making some stupid decisions on the court, so I think just overall, but Petra played well. Hopefully next time it's going to go my way," explained the Kazakh.
She tried to react and held her service once, but Kvitova broke her again in the eighth game to finish the match and become the oldest Miami champion since Serena Williams in 2015.
A two-time Wimbledon champion, Petra Kvitova will jump back to the WTA Top 10 for the first time since September 2021 as of next Monday. This was her 20th title on hard-court tournaments, and her biggest accomplishment in five years – the last one had been in 2018, in Madrid.
"I think I played already very well in Indian Wells, and I just kept going here, trying to focus on every match. I had very good opponents during the tournament, which Elena is as well, for sure. I think that the serve really helped me, a little bit faster courts here with the faster balls, which I think suits my game," said the Czech.
On her turn, the Kazakh became the fourth player to fail to win the Sunshine Double in Miami's final after Serena Williams (1999), Lindsay Davenport (2000) and Maria Sharapova (2006 and 2013). Despite the loss here, she ends March with a great feeling about her game and how she can deal with the remainder of the season.
"I'm just happy with the two weeks overall. Not so happy with the second set today, of course, but I think it was a still positive one month here in the United States. After so many matches, I feel that confidence is just trying to do good preparation. I won't say that there is a lot of time again, but that's a good problem to have. I must keep on fighting, working on the technique, physique, and a lot of aspects of my game."
The head-to-head between these two players is now in favor of Kvitova, 2-1. Before today's final, the Czech had won the latest fixture, 6-3, 7-5, in the Adelaide-2 tournament.
After this result and her top-ten return, what's next for Kvitova? Maybe win another tournament in 2023?
"Well, who knows, right? I already won one, so I'm very happy right now, of course, but yeah, happiness is always after the tournament, after winning a title, of course, because when you are still in the tournament, you're still focusing on the next one, the next one. Yeah, sometimes you are that exhausted that you can't even enjoy the moment of winning and be happy. So hopefully it will be a different story today, and who knows what will be next."