Laura Siegemund Finishes 'Tennis Marathon', Qualifies for Main Draw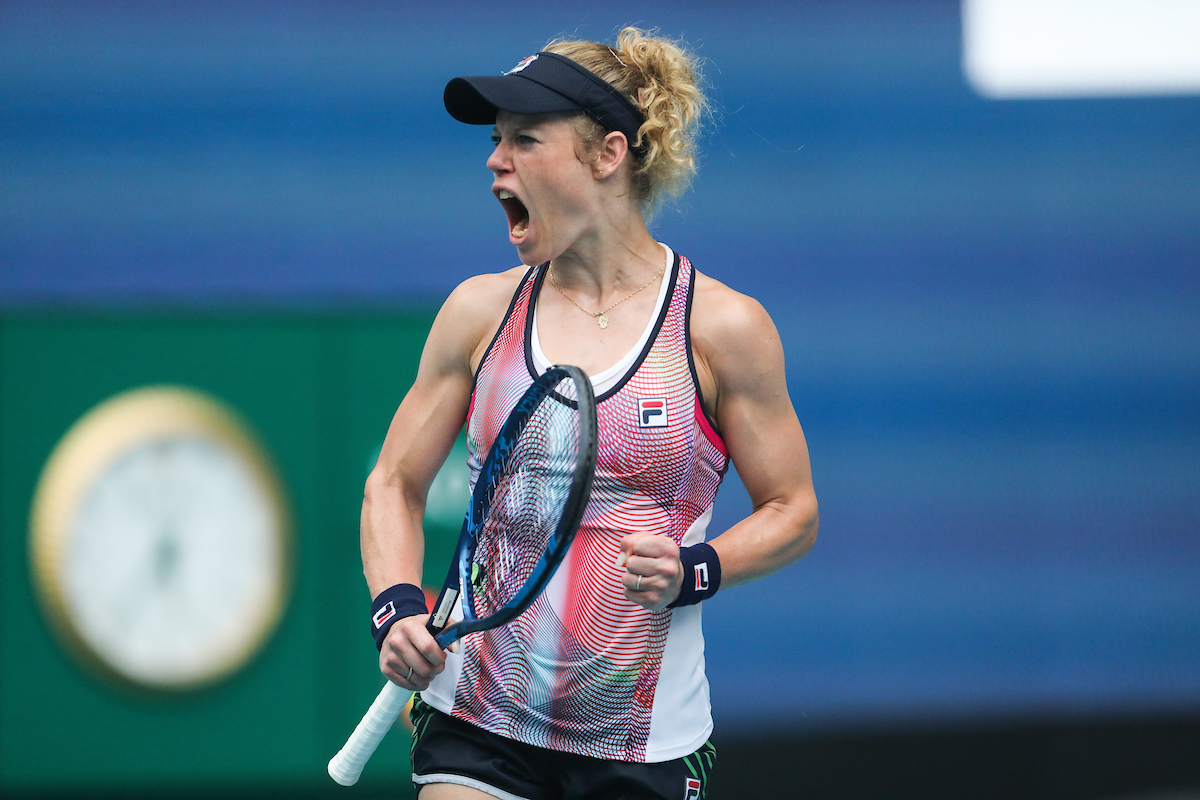 German advances after 3 straight days and almost six hours of tennis in 2 time zones
by Daniel Perisse
Miami Gardens, FL (March 20, 2023) – Three matches. Two different time zones. Almost six hours of tennis for three straight days. Sounds exhausting, right? Not for Laura Siegemund. The 35-year-old German player just ended her personal "tennis marathon" this Monday night securing a spot into the 2023 Miami Open Women's Singles draw.
Siegemund's journey began last Saturday, March 18, in the US West Coast, where she played the Indian Wells WTA 1000 doubles final at 11 a.m. local time (2 p.m. EST time) alongside Brazilian Beatriz Haddad Maia. The German was on Stadium 1 Court for 1 hour and 57 minutes in a match-tie-break loss to Czech duo Katerina Siniakova and Barbora Krejcikova 6-1, (3) 6-7, 10-7.
Meanwhile, the Miami Open order of play for Sunday was released – and there she was scheduled to play a first-round qualifying match not before 2 p.m. local time, or 11 a.m. in California. Siegemund had another fixture in almost 24 hours, in a different time zone – three hours ahead – and on the opposite coast of the country. So, what happened after Indian Wells?
"Basically, we played the final (in Indian Wells), then I had to go to the hotel, and pick my stuff, and we drove by car to Los Angeles three yours, then took an overnight flight, like at 11 p.m., I arrived at 6 a.m. here (in Miami) yesterday, went to the hotel, slept three hours and came back here, hit a few balls and played my match."
The match she was referring to was against Switzerland's Diana Shnaider, a 6-4, 7-6 (4) victory in exactly two hours of play on one of Hard Rock Stadium's outside courts. How did she celebrate?
"After my match yesterday, I had more sleep."
With a little more rest this time, Siegemund went to court again on March 20, now against countrywoman Eva Lys – 14 years younger than her – for a spot into the main draw. And she ran the last mile of her personal tennis marathon in a high note, winning 7-5, 6-1 in 1 hour and 39 minutes.
After almost six hours of tennis for three straight days, she stopped for five minutes outside of court Butch Bucholz to answer a few questions.
"What I did was an amazing achievement, with all the travel we had. And also I haven't played singles points in quite a few days, so I am really proud of myself and happy, obviously", said Siegemund.
The German has quite good memories from last year's Miami Open – she won the doubles playing alongside Vera Zvonareva and they will be back to defend their title. However, having so many singles matches does not help that much for doubles, according to her.
"Singles and doubles are two completely different things, and you know, I am really happy about how I can switch from one to the other, and obviously as long as I am in singles, that's my focus, and the doubles is not for a while, so I just try to keep the singles going as much as possible."
And what is next? The German is back on court tomorrow, playing Mayar Sherif from Egypt in the first round. If she wins, will face Spaniard Paula Badosa, the No. 21 seed, in the second round – maybe with a day off between matches, who knows.
Other 11 players advanced to the Women's Singles main draw, including No.1 qualifying seed Varvara Gracheva and No. 4 seed Karolina Muchova, from the Czech Republic. You can find all the Monday results and the updated draws here.
Download the order of play for tomorrow and get your tickets here.