Men's Semifinals Feature Friendly Foes; Kvitova-Cirstea Aim for Women's Final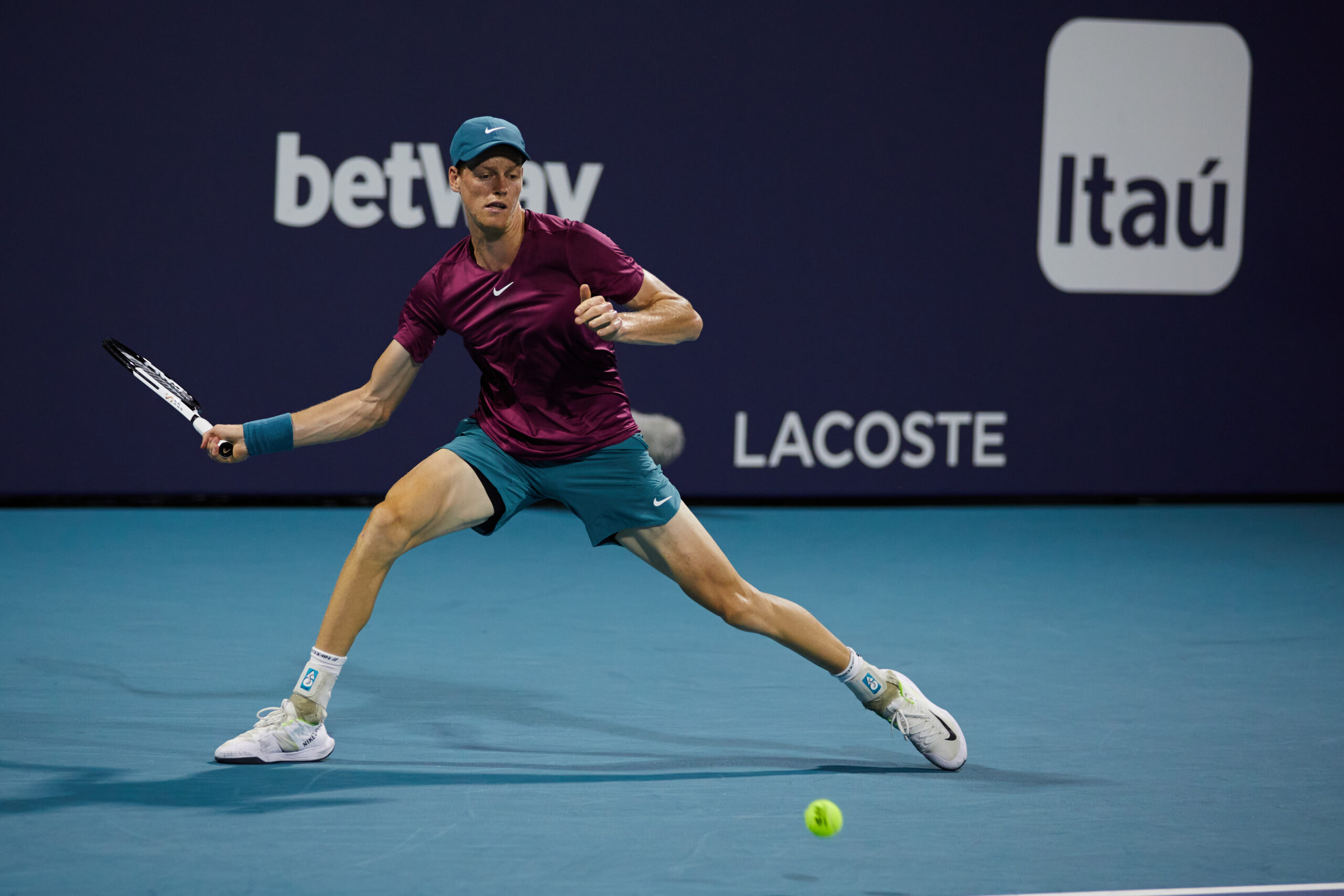 Khachanov-Medvedev and Sinner-Alcaraz clashes to decide men's singles finalists  
by Daniel Perisse
Miami Gardens, FL (March 30, 2023) – The tennis world is not only about competition: you have your best friends on tour, your practice buddies, others that have been there as long as you have… and sometimes these people meet in official matches. This Friday, the Miami Open presented by Itaú semifinals brings that to light in all three singles fixtures of the day.
Take Daniil Medvedev and Karen Khachanov, for example. They were born in the same country, have grown up together, and are now in the ATP Tour, constantly practicing in-between matches. Tomorrow at 1 p.m. in the Stadium, they play for a semifinal spot in Miami. So, what is the strategy when facing someone that has a history with you outside of the courts?
"I think maybe just a little bit you have to kind of force yourself even more, to be focused, and when I say this, it's just because they know your game so well, and you know theirs so well. So I'm almost sure we know how the match will go tomorrow, and a question of who's going to make the best shot out of our play," said Medvedev.
For Khachanov, it's a matter of forgetting everything once you're at the court.
"Yeah, from one side, we know each other from a young age. We have been playing against each other since we were kids, you know, but also on ATP we played, how many, four matches, I think. I would say; we are good friends outside, but we are rivals on the court. Tomorrow is another match, and I'm excited to play against him in the semifinals. I will prepare and try to do my best. I think he will try and do the same. Who plays better tomorrow will win."
Medvedev leads 3-1 in the head-to-head against Khachanov and won the last match 6-3, 6-3 in the Adelaide quarterfinal.
Both players are having a great season: while Medvedev has won three titles in Rotterdam, Doha, and Dubai and triumphed in 22 out of his last 23 matches, Khachanov has reached back-to-back Grand Slam semifinals at the US Open and the Australian Open.
On the other part of the draw, Jannik Sinner and Carlos Alcaraz are not countrymen, but they have built more than an on-court rivalry given the number of years they've been playing together, first in junior tournaments and now on the ATP Tour. There is a great amount of respect and inspiration from one to the other.
"I would be happy to play against him again because I look forward to these kinds of matches. As I said there, I feel like he makes me a better player," affirmed the Italian.
Currently, at World No. 11, Sinner holds a 12-2 record in Miami, where he reached his only previous Masters 1000 final in 2021, and 20-4 on the season.
Alcaraz comes from ousting America's No. 1 player Taylor Fritz 6-4, 6-2 in 1 hour and 18 minutes. That was his first win against the Rancho Santa Fe, Calif. native. He also praised the off-court relationship with Sinner.
"Well, we have a good relationship outside the court. You know, we wave at each other, we talk. When we are out of the court, we practice a few times together as well. He's a really nice guy. Which I find important, as well, to be a nice person. Of course, yeah, we share a lot of great moments outside of the court."
On the women's side, Petra Kvitova and Sorana Cirstea might not be close friends, but they have respect for each other from several seasons on tour – they are 33 and 35 years old, respectively. Coincidentally, it had been quite a while since they had a good result at a WTA 1000 tournament.
This is the first time in ten years that the 32-year-old Romanian reached at least the semifinal of a WTA 1000 – the last was in 2013 when she lost the Toronto final to Serena Williams.
"We practiced here before the tournament started as well. It's kind of nice, somebody over 30 as well and playing so nice. It's nice, and it's fun. I'm happy for Sorana, how she's playing, with the run she has. It definitely would be nice to face her again," affirmed Kvitova.
On her turn, the Czech, a two-time Wimbledon champion, finally advanced to the Miami Open semifinal after three frustrated attempts.
"I know Petra well. We are the same age. We have been playing a lot against each other throughout our careers. I know her. She knows me well. We have always had great matches. Again, very aggressive player. Big weapons. Yeah, I have always enjoyed the matches against her," said Cirstea.
Kvitova and Cirstea play tomorrow at the Stadium, not before 3 p.m., to decide who will challenge Elena Rybakina for the title. The Czech has a 6-4 head-to-head lead against the Romanian, and they split victories in their two encounters last season: the two-time Wimbledon champion, the No. 15 seed, won in Cincinnati 6-2, 6-3, while the unseeded player from Romania prevailed at the Australian Open, 6-2, 6-2.
On court Butch Buchholz, the remaining women's doubles quarterfinal, between Americans Jessica Pegula and Coco Gauff, the No. 2 seeds, and Belgium's Elise Mertens and Australian Storm Hunter, seeded at No. 6, is scheduled for 3 p.m.
Between singles and doubles, it will be the ninth straight day in which Pegula is on the court for a match.
Whoever wins plays No. 8 seeds Nicole Melichar-Martinez, from the US, and Australian Ellen Perez, for a place in the final.
The other semifinal is scheduled for the Stadium, right after the Men's singles semifinal between Alcaraz and Sinner: Polish Magda Linette and American Bernarda Pera challenge Leylah Fernandez from Canada and Taylor Townsend, also from the United States.
You can follow all the results and the men's and women's singles and doubles draws here.
Download the order of play for tomorrow and get your tickets here.