Pegula and Gauff Succeed in 'Home' Tournament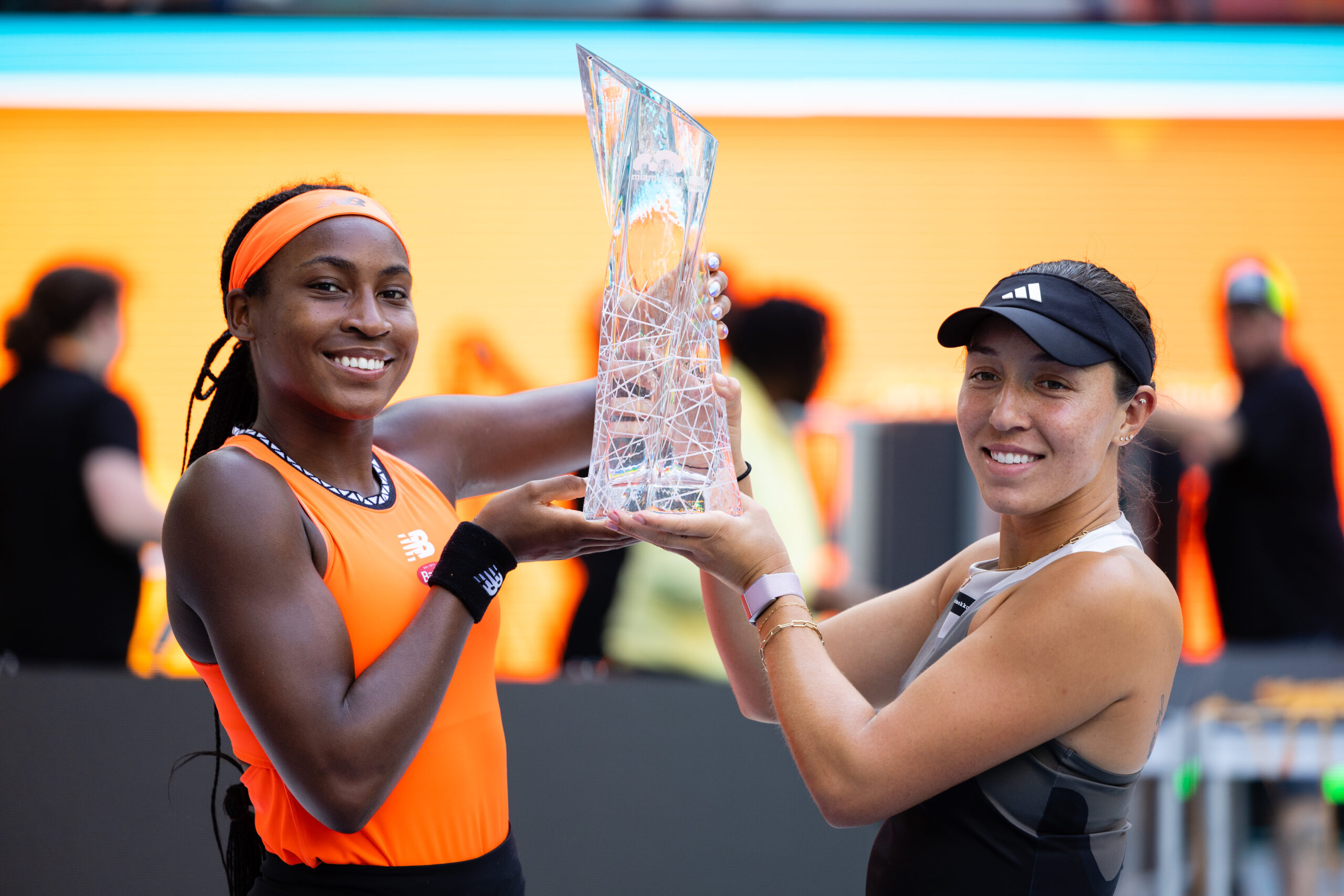 Americans secure Second Doubles Title in 2023 after defeating unseeded pair of Fernandez and Townsend
by Daniel Perisse
View Women's Doubles Final Photo Gallery
Miami Gardens, FL (April 2, 2023) – Jessica Pegula and Coco Gauff, two players with a connection to Southeast Florida, ended with a high note the 2023 Miami Open presented by Itaú winning the women's doubles draw in a two-setter triumph over Chicago native Taylor Townsend and Canadian Leylah Fernandez 7-6(6), 6-2, in what was their second trophy this season.
For Pegula, who comes often to South Florida to practice with her coach, David Witt, this accomplishment felt a "little extra special":
"I'm excited that we were able to win kind of, like, our home tournament. Yeah, it feels weird. We have grown up watching this event so much. Yeah, James Blake, tournament director. I don't know. It's a fun WTA 1000 to win."
This was the second title in 2023 for Pegula and Gauff, who are currently the World No.2 doubles team, and their first WTA 1000. Earlier this year, they won in Doha.
"I'm glad that we were able to have that result, especially, you know, I think our quarters, final match, we weren't looking like we were going to be in this position, but we hung in there. Today, honestly, I don't think we could have played a better match," said Gauff, a Delray Beach, Fla. resident.
The first set began with both teams holding on to their serves. In the 11th game, Townsend and Fernandez won the deciding point with a ball down the line and broke Pegula's serve, serving for the set with a 6-5 lead.
But the tournament No. 2 seeds came back and took the set into a tie-break after breaking Townsend's serve back.
During the tie-break, Pegula and Gauff broke Fernandez's serve to lead 6-5, but missed the following set point with Pegula serving. Their other opportunity would only come at the 14th point when they broke Townsend and closed 8-6. The set lasted 54 minutes.
The second set began with breaks for Pegula and Gauff in the third and fifth games, with the American duo quickly building up a 4-1 lead. After that, it was a matter of holding serve until clinching the title.
"I think it took us, honestly — the second set we started returning much better. Luckily I at least started making some returns at least to break back to get it to that tiebreak at the end or else we would have lost the first set and who knows," explained Pegula.
The Americans have obtained other three trophies together in 2022 (Doha, Toronto and San Diego) and reached the Roland Garros final.
"She knows the whole deal. We did a good job this week, especially you (Pegula), that made an effort to play with me. It was not easy," affirmed Coco Gauff about her partner having to play in both draws until the last days of the tournament because she advanced to the semifinals in singles.
To get into the final, the No. 2 seeds had to play two matches on Friday to reach the championship. First, they needed 1 hour and 48 minutes to halt Australian Storm Hunter and Belgium's Elise Mertens, 6-7(4), 7-5, 10-2. A couple of hours later, they prevailed over Nicole Melichar-Martinez, also from the United States, and another Australian, Ellen Perez, 7-6(5), 7-6(4), in 1 hour and 39 minutes.
"It's been difficult. Obviously, the match with Potapova was really physical. Then being in doubles and having a tough match against Rybakina, as well. I mean, I'm tired but I'm okay. Again, doubles, it's half court. I feel like I can still play a good level even if I'm a little tired, and I'm used to it, and if anything, I'm conditioned to it now, so it's not too big of a difference."