Rybakina faces Kvitova Looking for the Sunshine Double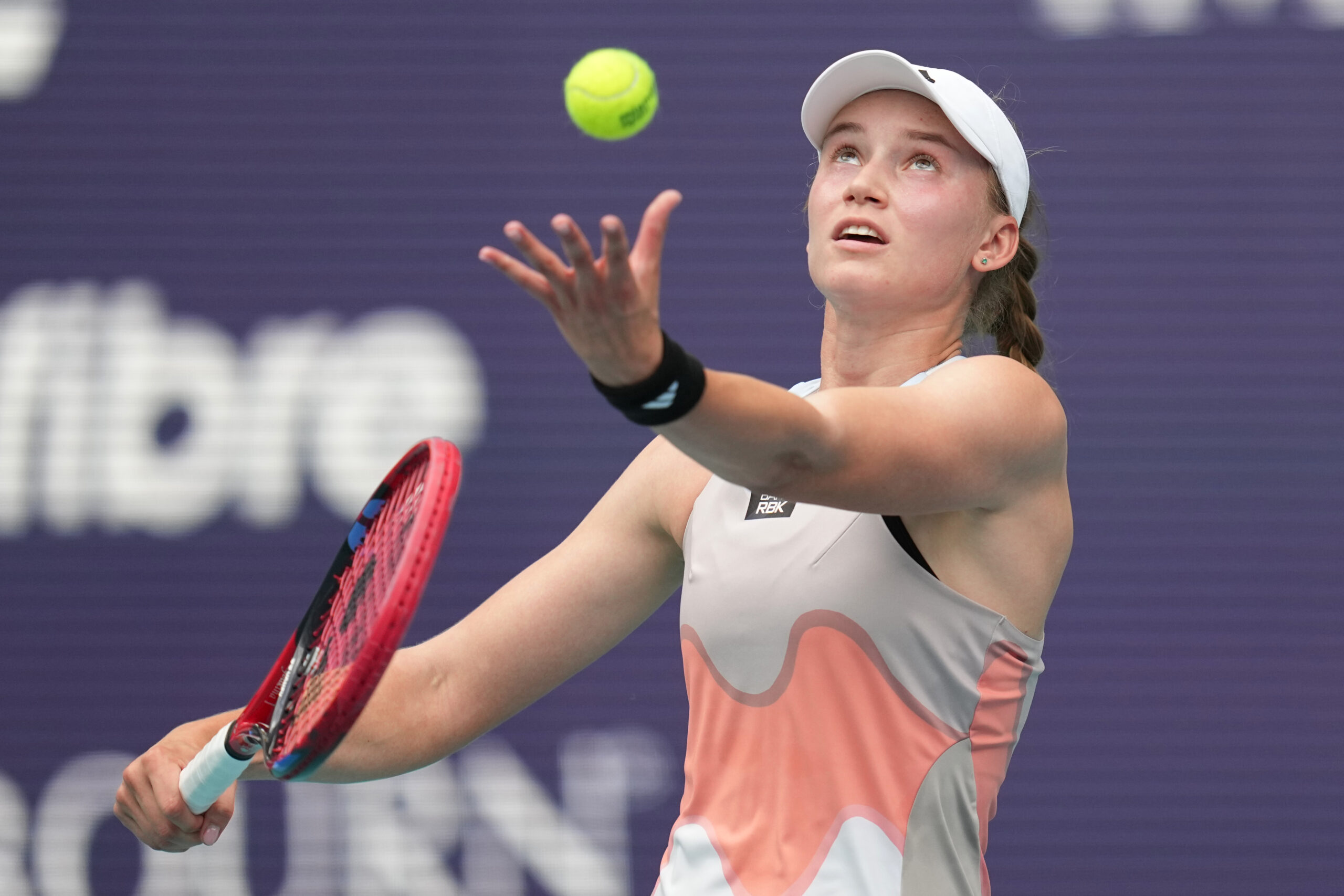 Defending Wimbledon champion will face Kvitova, who seeks 30th career trophy
by Daniel Perisse
Miami Gardens, FL (March 31, 2023) – After winning the Wimbledon and Indian Wells titles, Elena Rybakina challenges Petra Kvitova this Saturday, April 1, in the 2023 Miami Open presented by Itaú women's singles final seeking another record in her incipient career: to become one of the players to achieve the Sunshine Double, which is winning coast-to-coast tournaments in the same season.
However, she will have a tough opponent in Kvitova. The 33-year-old Czech was also crowned Wimbledon champion, but twice, and seeks her 30th career trophy. She had never advanced beyond the quarterfinals in Miami and now is the fourth-oldest finalist of the tournament.
Rybakina advanced to the final after overwhelming Jessica Pegula, America's No. 1 player and World No. 3, 7-6(3), 6-4, in 1 hour and 51 minutes, while Kvitova halted Sorana Cirstea's dream run in two sets, 7-5, 6-4, after 1 hour and 41 minutes.
The head-to-head between these two players is currently tied 1-1. The Czech won the latest fixture between them, 6-3, 7-5 in the Adelaide-2 tournament.
"Against Petra I played in the beginning of the year, and she played really well, but the courts were much faster there. I think it's gonna be different if I play against her again, but for sure it's a lot physically, because here the courts are quite slow, especially after the rain. When it's that humid, it's not easy," said Rybakina.
On her turn, Kvitova also preferred to praise the Kazakh's latest achievements, which includes a 13-match winning streak – her last loss was to Brazilian Beatriz Haddad Maia in the Abu Dhabi quarterfinals in February.
"It's 1-1 (the head-to-head), so we see tomorrow who is gonna take it. She's playing very good, winning Indian Wells, returning here in the final. For sure it's a great achievement. She's a big hitter, big server as well. I'm the same. It depends really how we are gonna handle the pressure from the opponent," affirmed the Czech.
If Rybakina wins, she will be the fifth woman to win Indian Wells and Miami in a single season to complete the so-called Sunshine Double.
"Well, it's really difficult, and because of different conditions in these two weeks by the matches you could see that it's much more difficult for me here than even in Indian Wells. Yeah, for now, it's just the finals still close but the same time far. The Sunshine Double I try my best, and hopefully I can make it."
For Kvitova, winning the Miami Open would be claiming her 30th career title. This will be her first WTA 1000 final since Cincinnati 2022 and she seeks her greatest trophy since Madrid in 2018, her ninth career title at this level in 13 deciders.
Also, she can go back to the WTA Top 10 for the first time since September 2021 in case of a win.
"Well, I was never a quite consistent player, I have to say, I think. I had more like ups-and-downs all the time. Maybe with age I'm more experienced. Well, definitely I'm proud of myself how I handled those matches here, especially when I was down in the set and coming back. That's really important. But as everybody knows, I love to play finals, right?"
Rybakina and Kvitova play tomorrow not before 3 p.m. at Hard Rock Stadium.