Alcaraz, Sinner, Pegula, Rybakina Survive Terrific Tuesday in Miami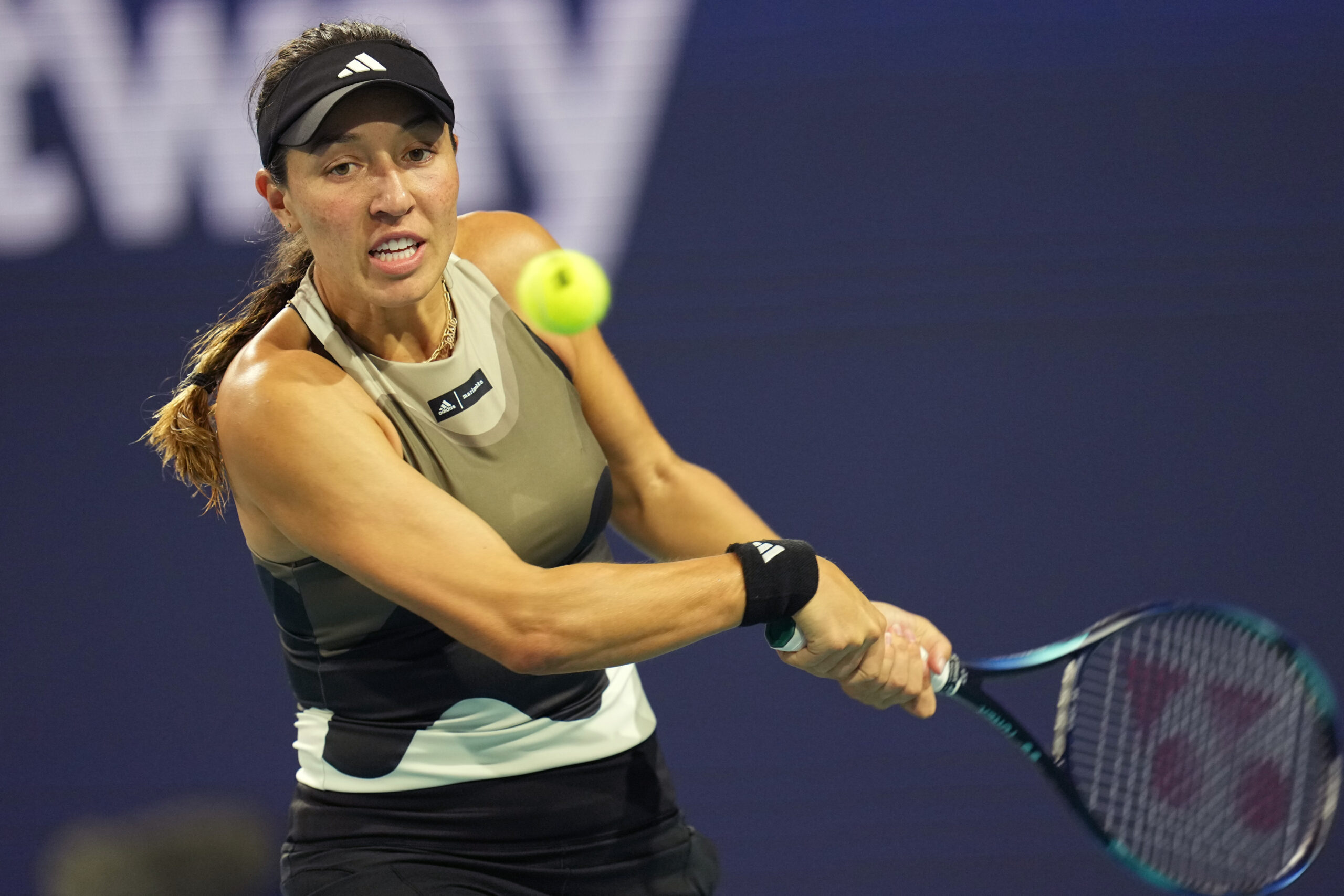 Spanish sets quarterfinal clash with Fritz; Rybakina books semifinal with Pegula
by Daniel Perisse
Miami Gardens, FL (March 28, 2023) – An action-packed Tuesday at the Miami Open presented by Itaú that included all the men's singles fourth-round matches came to an end with wins from fan-favorites Carlos Alcaraz and Jannik Sinner, who advanced to the quarterfinals, and from Elena Rybakina and America's No. 1 player Jessica Pegula, who will play for a spot in the women's singles final.
Opening the Stadium slate, Taylor Fritz needed 1 hour and 25 minutes to defeat Denmark's Holger Rune 6-3, 6-4, in the first match between the Rancho Santa Fe, Calif. native and No. 8 in the World.
The best American player in the ATP Rankings played aggressively since the beginning and earned his third straight-set victory here. He never went beyond the fourth round in six previous appearances at the Miami Open and is seeking the third Masters 1000 semifinal of his career.
"I felt like the key was just playing solid on my serve, holding serve. I did a good job of doing that. Then I was able to steal a couple of breaks. I thought I returned his serve well," explained the Californian, who had never faced Rune before.
Currently ranked No. 10 in the World, the American now has a 20-5 record, including his title in Delray Beach in Southeast Florida. He has not lost a single set in Miami this year.
Fritz now challenges World No. 1 Carlos Alcaraz, who knocked out another American, Tommy Paul, 6-4, 6-4, in 1 hour and 36 minutes. This will be the first time they play each other.
"I'm going to be focused on me, just on me, to play my game; as I said, I have time to enjoy, relax and smile on the court. That's the key of everything for me," commented the 19-year-old, who is trying to become the youngest player to win the Sunshine Double after lifting the trophy two weeks ago in Indian Wells, his third career Masters 1000.
"I try not to think about that, but it's difficult. You know it's something that I want it. I want to be part of those few players that made the Sunshine Double," he added.
Alcaraz needs to defend his Miami Open title if Alcaraz wants to stay on top of the ATP Rankings. So far, he was not even close to losing a single set in his campaign.
On Grandstand, Jannik Sinner cruised past Andrey Rublev, 6-2, 6-4, and clinched a spot in the quarterfinal. Sinner's third win in five matches against the World No. 7.
"It's not easy to play against Andrey. He hits the ball very strong, especially his forehand swing. He served very well today. I had to take every chance I had in the return games. He is improving, so I am happy about this challenge. It was a good match," explained the 21-year-old, who has not lost a set here.
In three main-draw appearances in Miami, the Italian reached at least the quarterfinals – in 2021; he played his only previous Masters 1000 final here. He also comes from a semifinal run at Indian Wells and is 19-4 in the season, winning 15 of the last 17 matches.
The next opponent of the World No. 11 is Finland's Emil Ruusuvuori, the only unseeded player left in the top half of the draw. Today he overcame Netherlands Botic van de Zandschulp, the No. 26 seed, 4-6, 6-4, 7-5, in 2 hours and 44 minutes.
"Well, my game plan didn't work in the beginning, he was just doing things better than me. I wasn't as sharp as in the previous matches, just executing the basics, and he solid. I was able to raise my level, play much better tennis, and be more aggressive," remarked Ruusuvuori, whose best result in Miami before today was the fourth round in 2021.
The 23-year-old is the first player from Finland to reach a Masters 1000 quarterfinal since 2013 when Jarkko Nieminen played that round in Monte-Carlo.
On the other hand, No. 2 seed Stefanos Tsitsipas was ousted by Karen Khachanov, the No. 14 seed, 7-6 (4), 6-4. This was his first victory against the Greek in seven matches, and the last time he had a triumph against a top-ten player was in August 2019.
"It feels great. I had a good start to the season in Australia, with a semifinal in a Grand Slam, then I had to stop due to an injury in February, and I used this gap to cure it and practice as much as I could. From Dubai on, I found a better rhythm, practiced better, had better feelings, so I am happy to keep this form and to continue the way I am," said the 26-year-old.
This is Khachanov's fourth quarterfinal out of six tournaments played this season, which includes his second consecutive Grand Slam semifinal at the Australian Open, in which he ended up losing to Tsitsipas.
"I'm just happy to keep moving forward. You keep on moving at the tournament and going that way."
The Greek did not play for the first week of the Miami Open because of a first-round bye and a win by walkover against Richard Gasquet in the second round.
The World No. 3 barely played official matches during the past weeks, as he came from a withdrawal in Acapulco due to a shoulder injury and was defeated by Australia's Jordan Thompson in the second round in Indian Wells after a first-round bye.
His next opponent will be Argentina's Francisco Cerundolo. The No. 25 seed overcame Italian Lorenzo Sonego 3-6, 6-3, 6-2 in 2 hours and two minutes. This is his best campaign so far this season – before that, he had reached the quarterfinals in Buenos Aires in a smaller player draw.
"It was tough at the beginning. I played on Grandstand yesterday, and it was much slower than this one. I was a bit uncomfortable with the bounce of the ball. I started getting more comfortable, and was happy with my level in the second and third sets," affirmed the Argentinian.
Cerundolo played the Miami Open semifinal in 2022, having lost to Norwegian Casper Ruud. The World No. 31 pointed out why he feels so comfortable in South Florida.
"I feel at home here, I have many friends that live here and come from Argentina. I like the weather, the conditions, so it's a combination of both."
Also on Grandstand, Christopher Eubanks, currently ranked at No. 119, kept his dream alive by defeating France's Adrian Mannarino, 7-6 (2), 7-6 (5). The Atlanta native, who will reach the top 100 next week with his impressive run in Miami, will now play his first Masters 1000 quarterfinal.
"It feels great to win. Adrian is such an established veteran, he is so crafty and has beaten some of the best players in the world, so the process for me would be to go out there and hold serve, and after that, just playing on feel, just trying to figure out, he is so good with his hands, so it's even risky for me to give pace to a guy like that. Just have to thank the balls that went in and went at the right time. Now here I am in the quarterfinals," affirmed the 26-year-old.
Eubanks defeated the second French player in a row in Miami: last night, he whipped Gregoire Barrere, also unseeded.
His quarterfinal rival will be Daniil Medvedev, who ended a busy day at the Miami Open – matches finished around 1:30 a.m., after a two-hour rain delay – finishing off France's Quentin Halys 6-4, 6-2 in 1 hour and 10 minutes.
"I'm happy I managed to play not so bad because that is not easy, and I think that is why Quentin was also missing a lot; when you play at midnight, you usually sleep at midnight, so I tried to play some tennis," joked the World No. 5 about finishing so late.
This is Medvedev's third straight quarterfinal bound in Miami, but he never went through that round.
Besides all the fourth-round action in the men's singles draw, the first two women's singles quarterfinals were played this Tuesday.
Also in the Stadium, Elena Rybakina cruised past Italy's Martina Trevisan 6-3, 6-0, in 1 hour and 10 minutes to reach her third semifinal this season. The player from Kazakhstan keeps alive her Sunshine Double dream, as she comes after defeating Aryna Sabalenka in the Indian Wells final.
"I just need to focus match by match, and I have a tough opponent. So, I think that it doesn't matter. Of course, it would be amazing to achieve something like that, but it's still far away."
Rybakina now has a record 20 wins this season, tied with Sabalenka. This was her 12th win in a row. The Kazakh is also the first player to reach her first two WTA-1000 semifinals in back-to-back tournaments since Sofia Kenin in 2019 (Toronto and Cincinnati).
Stadium action this Tuesday ended with a thrilling win from Jessica Pegula, America's No. 1 player, against Anastasia Potapova, 4-6, 6-3, 7-6 (2) in 2 hours and 36 minutes. Rybakina comes next.
The Buffalo, N.Y. native defeated Potapova 3-6, 6-4, 7-5 in a third-round match at Indian Wells two weeks ago. However, today was much harder, as she saved two match points on the opponent's serve.
"It's huge (the win). I hadn't been this physically tired in such a long time. The humidity was taking so much out of me, I hadn't played in humidity like that in a while. It was tough, so it was pure will. It means a lot," declared an exhausted World No. 3.
Pegula leads the head-to-head against Rybakina 2-0. They played in Miami last year, and the American won in straight sets, 6-3, 6-4. A few months later, in the Guadalajara WTA 1000, she prevailed again, but in a three-setter decided in a tie-break: 2-6, 6-3, 7-6 (8).
You can follow all the results and the men's and women's singles and doubles draws here.
Download the order of play for tomorrow and get your tickets here.