Gonzalez/Roger-Vasselin Win First Masters 1000 Together in Miami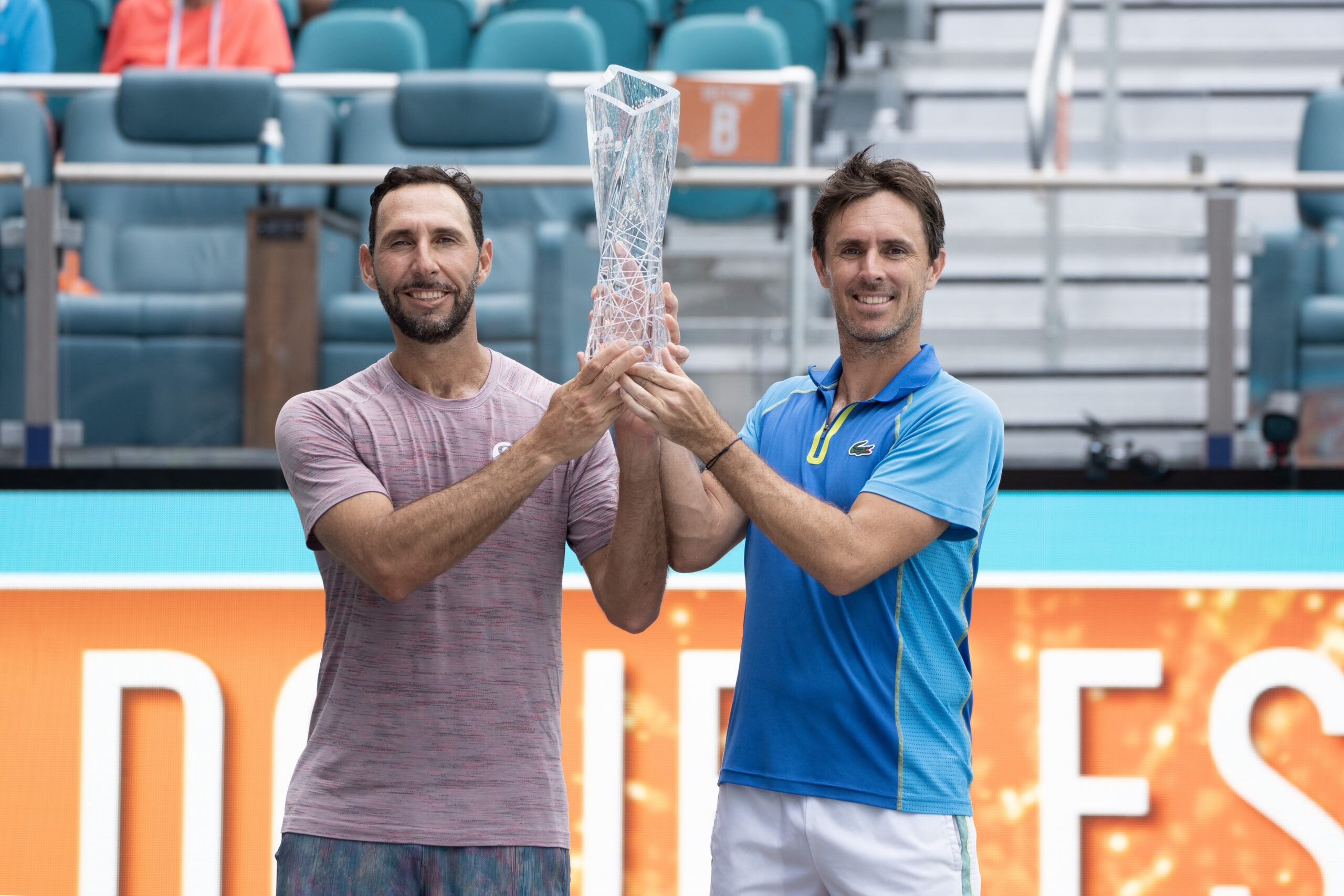 Mexican-French duo now has two titles in 2023
by Daniel Perisse
View Men's Doubles Final Photo Gallery
Miami Gardens, FL (April 1, 2023) – Mexico's Santiago Gonzalez and Edouard Roger-Vasselin from France have claimed the men's doubles title at the 2023 Miami Open presented by Itaú, their second trophy together this season, after defeating Tampa, Fla. native Austin Krajicek and Nicolas Mahut, also from France, in two sets, 7-6(4), 7-5.
The 40-year-old Mexican and the 39-year-old French duo had conquered the Marseille trophy earlier this year. This was Santiago Gonzalez's second Masters 1000 final and his first title, while Roger-Vasselin had already been a champion at this level in 2015 in Cincinnati, partnering Canadian Daniel Nestor.
This was also a special day for the player from Mexico because it was his son's birthday this Saturday. All his family – his wife, son and daughter – flew to see him in the final and were gifted with such a special moment.
"I'm very happy, obviously, this is a day that I will always remember. It's never too late to win your first Masters 1000, and specially today, it's my son's birthday. It's amazing. I'm not going to forget, he is probably not going to forget, hopefully we can keep it going like this through the rest of the year," said Gonzalez, the first Mexican ever to win a title at this level.
In the first set, Mahut had his service broken in the third game to give Gonzalez and Roger-Vasselin the advantage. But they responded by breaking the Mexican in the eighth game and taking the 5-4 lead in the ninth, with Krajicek holding his serve.
The initial set ended up being decided in a tie-break. The Mexican/French duo got a break from Mahut's serve again, in the fourth point, and held the advantage until the end, opening a 1-0 lead after 54 minutes of play.
The second set had all players holding serve until the 12th game, when Gonzalez and Mahut had 30/40 and two championship points. They just needed the first one to finish the set and take the crown in the Magic City.
Gonzalez and Roger-Vasselin are now 16-6 this season. En route to the title here, they ousted the World No.1 team of Wesley Koolhof from Netherlands and Neal Skupski from Great Britain. They also came from a good run in Indian Wells, having reached the semifinals.
"We just saw the draw, the coach came with the draw, we looked at it and saw it was tough from the beginning, so we did really well this week. We started the season also not bad, we have been enjoying out time together off court, we relax and play golf a lot together," commented Roger-Vasselin.
"For now he is better than me at golf, but I will try to improve and we will have some fun also outside of the courts, it helps build a stronger team."
On their turn, Krajicek and Mahut were partnering for their first time in Miami. The Frenchman was looking for his second crown in Miami, after winning here in 2016 partnering Pierre-Hughes Herbert.
The American now has three losses in three Masters 1000 finals – the two others were in 2021 in Cincinnati, with Steve Johnson, and last year in Paris with Croatia's Ivan Dodig, who pulled out of the Sunshine Double tournaments due to an injury.
After the title, Roger-Vasselin kept his promise: he showed his kids back home the trophy he just had won, like they always ask to.
"They were waiting for my call, it was 9 p.m. there , they were already in bed, so I showed them and I would call them tomorrow for lunch. "