Bautista Agut Denies Medvedev for Miami Semifinal Spot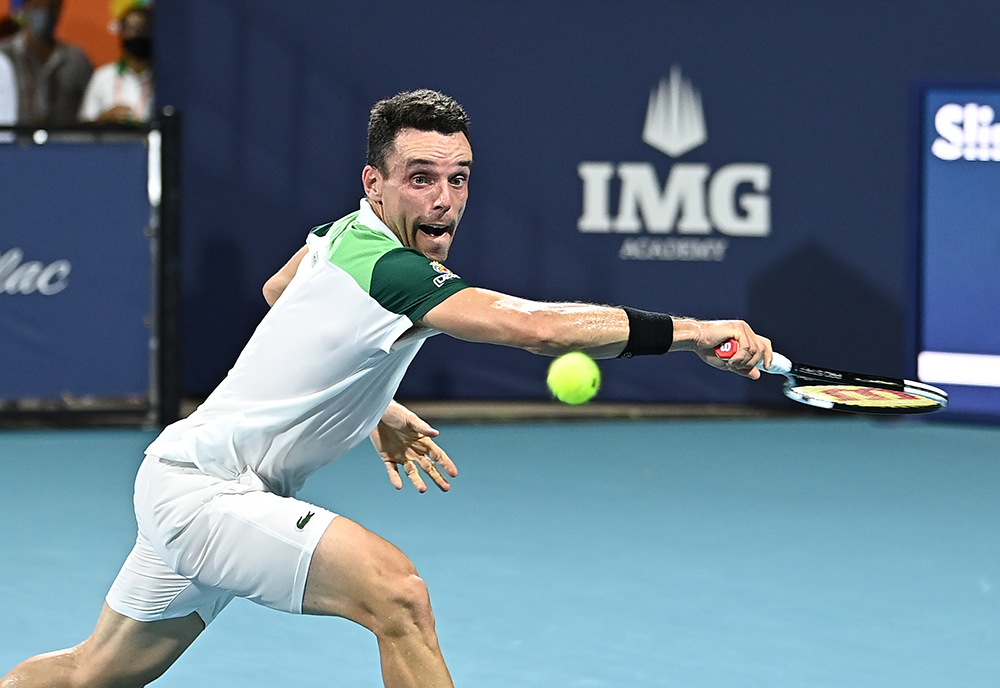 By Daniel Perissé
Roberto Bautista Agut ended Daniil Medvedev's ambitions of winning his first title at the Miami Open presented by Itaú with a convincing 6-4, 6-2 victory in the last Men's Singles quarterfinal.
The Spaniard was backed by a 2-0 lead in the head-to-head, while Medvedev came from reaching the World No. 2 ranking and being crowned in Marseille two weeks ago.
It seemed that things would be different this time, as the Russian began controlling all actions on court. However, that changed in the ninth game, when Bautista Agut broke his serve. Before the changeover, Medvedev smashed his racket into the ground. The Spaniard then held his serve to take the match lead.
"Well, at that moment I was very focused on me, on the things I had to do on the next game. Of course, if he broke the racquet, it's because he lost his patience. I think I did some great things to put him under pressure and to feel like this," explained the Spaniard after the match.
In the second set, Bautista Agut was dominant from the beginning: he broke Medvedev's serves in the first and fifth games. The Russian was clearly impatient during the points – he even hit a one-handed backhand, not his usual move, in one of them.
Bautista Agut kept his consistency and needed one match point while serving at 5-2 to seal the victory in one hour and 32 minutes.
The key to the Spaniard's win was his consistent performance. In the end, the Russian had 29 unforced errors, against 15 from his rival.
"Well, I think I did a lot of things well, no? To beat Daniil in two sets it's because I played great tennis. I was very solid and I could play with a lot of rhythm, make him work a lot."
Bautista Agut plays 19-year-old Jannik Sinner for a place in the Miami Open final. The Italian prevailed 6-4, 3-6, 7-5 in their first meeting, in Dubai, two weeks ago.
"Sinner is a great player, among the best in the world. He beat me two weeks ago in a hard match in Dubai. I'm feeling good, in good form, and now it's getting some rest and ready for this next match."
The other two quarterfinals will happen this Thursday at Hard Rock Stadium. At 1 p.m., Greece's Stefanos Tsitsipas plays Poland's Hubert Hurkacz. Not before 7 p.m., Bradenton's Sebastian Korda faces Russian Andrey Rublev, the No. 4 seed.