Medvedev or Sinner: Ready to Shine at the Miami Open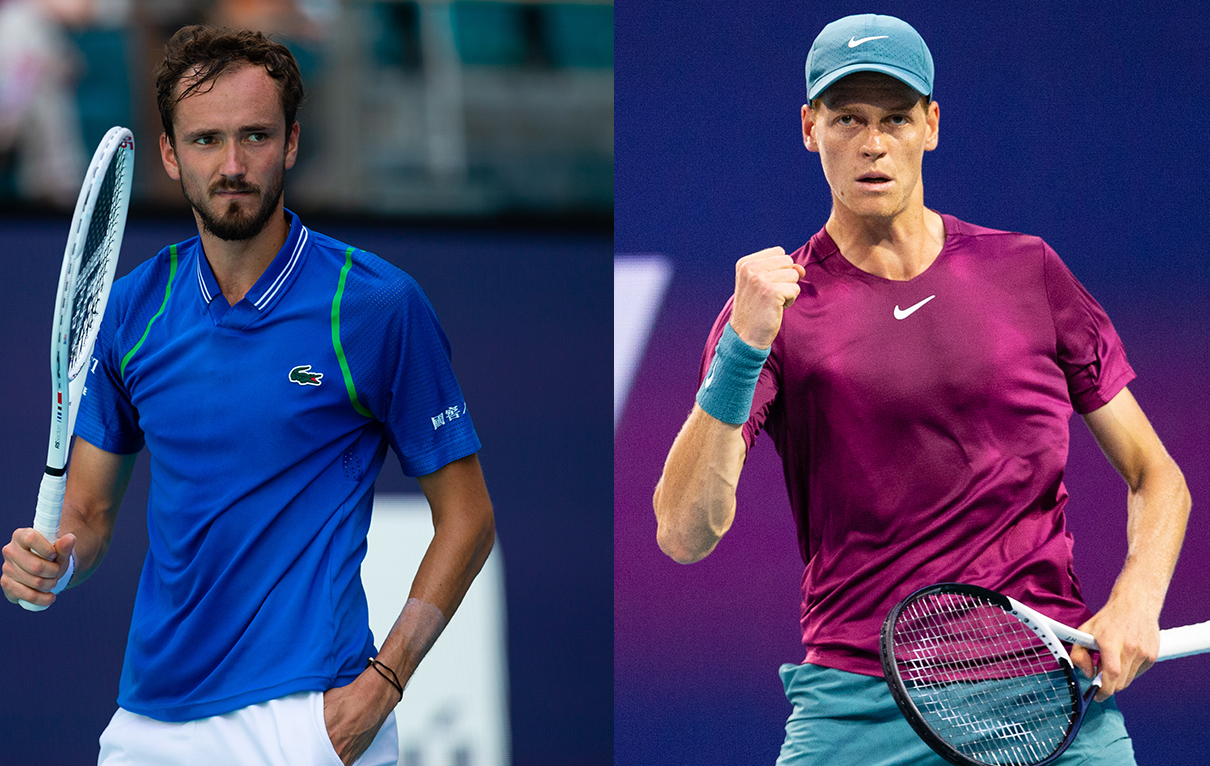 World No. 5 aims for fourth title in 2023, while Italian wants to change history after losing here in 2021
by Daniel Perisse
Miami Gardens, FL (April 1, 2023) – Daniil Medvedev and Jannik Sinner will play for the men's singles title at the 2023 Miami Open presented by Itaú this Sunday, April 2, in search of another milestone in their careers. While the Italian seeks his first Masters 1000 in his second final at the level, the World No. 5 wants a fourth title so he can tie his record wins in the 2019 and 2021 seasons – and we're still in April.
Medvedev already won the Rotterdam, Doha and Dubai finals, and lost to Carlos Alcaraz in Indian Wells. In his fifth consecutive final, he hopes to get back to the win column.
"I got the momentum going. Last year, even if it was not as I wanted to sometimes, I was working hard on the practices. I never stopped working hard on practice. I was working hard physically, so that's why I'm able to do these many tournaments in a row," he explained.
Besides that, the 27-year-old is 28-3 on the season, having won 23 out of his past 24 matches and currently leading the tour in terms of victories in the season, and became one of the players to reach the final in all six Masters 1000 and Grand Slams on hard courts.
"Last year was not, you know, paying dividends as I would like, but I was continuing to work and managed to find a lot of confidence this year by winning these matches in for sure Rotterdam, Doha, Dubai. Yeah, I managed to keep it going, which I was able to do sometimes in my career, and sometimes I know also you can have a down moment at one point, so you try to do the high moment as long as possible. I managed to continue it here."
Medvedev also holds a 5-0 record on matches against Sinner – the last one was this season's Rotterdam final, in which the Italian won the first set and ended up seeing the World No. 5 overcome him, 5-7, 6-2, 6-2.
"Sinner is capable of hitting the ball very strong. He is progressing really, really fast, especially this year", affirmed the World No. 5 , who seeks his fifth Masters 1000 title in eight finals.
On his turn, the Italian wants to step up in terms of results. He has a career tally of seven titles, but still seeks his first Masters 1000 – he lost here two years ago to Hubert Hurkacz in his first final at this tournament level. Back again in such situation, the World No. 11 hopes to make things different this time now.
On Friday night, Sinner ended Carlos Alcaraz's hopes of clinching the Sunshine double by overcoming the Spaniard 6-7(4), 6-4, 6-2, in what was one of the best matches so far this season.
"Oh, for sure it's one of the best wins. Obviously, it was a very tough match against him. I think we both played a very, very high-level match. Sunday is another match. Very, very different match", said the World No. 11.
The 21-year-old knows he needs to change his game plan if he wants to finally be crowned champion at the Hard Rock Stadium. The men's singles final is scheduled for Sunday, April 2 at 1:00p.m.
"I never beat Daniil. We had already one final in Rotterdam. I was able to win one set there. We had a couple of matches or some more where we went third set. Also there I need to make some changes, trying to mix up the game a little bit also. Then we see. But, you know, I feel ready to compete, happy to be in the final, and let's see how it goes."